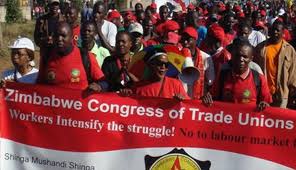 In the last few days, the Zimbabwe police have arrested trade union leaders and scores of activists nationwide ahead of planned marches over the country's worsening economic crisis, writes David Hemson. Peter Mutasa, president of the Zimbabwe Congress of Trade Unions (ZCTU) – the country's largest trade union – was among those detained, along with activists in three major towns.
ZCTU planned a national strike to protest against sharp price hikes, a new tax on electronic transactions and daily shortages ranging from fuel to bread as Zimbabwe's economy endures a fresh bout of chaos. Large numbers of police were on duty in Harare armed with truncheons, guns and teargas canisters while water cannon trucks were parked on some streets.
Zimbabwe's moribund economy has hit new lows in recent days with shops struggling to stock shelves, medicine running out and long queues outside petrol stations. Bizarrely, the Zimbabwean government adopted the US dollar in 2008; a currency which was in desperate short supply and largely inaccessible to the masses. Out of nationalist arrogance, determined to show independence from another African state even when facing economic disaster, Mugabe refused to adopt the South African rand which was the ready alternative. The ruling elite hoards and trades millions of USD to gorge itself on its privileged access to the international currency and sees no advantage to itself in changing. Their luxury cars arrogantly race down potholed streets.
As a half-way measure the government has introduced the local 'bond note' currency, which in theory has the same value as the US dollar. This has been in freefall in recent weeks, raising fears of a return to the hyper-inflation that wrecked national finances in 2009.
Today comrades rang me in desperation as shops emptied. Working people expect hyperinflation tomorrow and are buying now what they can; retailers are not restocking during the currency chaos. They sent these figures: butter was $21 today, the staple maize $8 (up 23%), a loaf up 22% and cooking oil now $10 (up 151%). But now even though price stickers have been removed to let prices soar, the shops are bare.
| | | | |
| --- | --- | --- | --- |
| | Yesterday | Today | |
| Sadza, maize, 10kg |  $     6.50 |  $     8.00 | 23% |
| Relish, spinach, kg |  $     4.20 |  $     7.00 | 67% |
| Brown loaf |  $     0.90 |  $     1.10 | 22% |
| Milk |  $     1.00 |  $     1.80 | 80% |
| Cooking oil, 2 litres |  $     3.99 |  $   10.00 | 151% |
How are working people in Zimbabwe to survive? For the past period socialists have been arguing for a socialist federation of Southern African states and beyond; this is now a matter of human survival. Although South Africa is no paradise for working people,10kg maize meal costs $0.82c, a loaf of bread $0.63, a litre of milk $0.67 and 2 litres oil $3.07.
Instead of integrating their dependent countries and transforming the region into economic prosperity, the nationalist leadership in Southern African countries excites xenophobia against its own and in SA crusades against destitute political refugees, props up bizarre currency arrangements and restricts the movement of impoverished people and trade in essentials.
The working people have yet to have their say.