Left Unity and the EU Referendum Prime Minister David Cameron, has called the EU referendum for June 23rd. Left Unity will be campaigning for a 'Remain' vote and working alongside Another Europe is Possible. Serious criticisms can be leveled against the European Union, but unfortunately this referendum is not driven by the desire to make […] Read more »
---
The first meeting of Left Unity's new national council on Saturday April 23 unanimously agreed to send a message of solidarity to the Awami Workers' Party and the Anjman Mozareen Punjab (AMP) – the mass, peaceful peasant movement in the Punjab, which is facing massive repression for defending land rights. Women have played a significant […] Read more »
Discussion & Debate
Phil Hearse writes Earlier this month Harold Wilson's former press secretary Joe Haines wrote a poison pen letter to Labour MPs in the form of an article in the New Statesman. Accusing some Labour MPs of a 'Micawber syndrome' – waiting for 'something to turn up' – Joe Haines argues that Jeremy Corbyn must be […] Read more »
Phil Hearse writes Read more »
Len Arthur – LU South Wales branch Read more »
Tom Walker, Salman Shaheen and Pete Green write on the future of Left Unity. Read more »
---
Local reports
Stuart King reports on the recent Lambeth Library occupation In mid April, shortly after a 10-day occupation of the Carnegie library in Lambeth, the first cracks appeared in the monolithic Progress run council in Lambeth. Councillor Rachel Heywood issued an open letter entitled "Why I broke ranks" referring to the fact that she marched with […] Read more »
Stuart King gives us a first hand account of the on-going occupation of the Carnegie library in Lambeth. The local council want ot close the library and re-open it with a private gym. DAY 3  – SATURDAY The occupation gives an interview with London Live TV at 9.00am. We got a mention in the Bookseller. […] Read more »
Stuart King reports from the occupation of the Carnegie Library in Lambeth which faced imminent closure by the local council. Lambeth council had planned to lock the doors of Carnegie Library to the public at 6.00.pm on Thursday night. Instead library users refused to leave and vowed to keep the library in the hands of […] Read more »
Inbar Tamari reports from NUT conference In the last two days of conference the union debates and reached important decisions regarding funding education and implementing policies in and out of the union. Inclusion and funding Conference noted how changes in government led to inclusion from being the norm for educating learners with special educational needs […] Read more »
Left Unity is active in movements and campaigns across the left, working to create an alternative to the main political parties.
About Left Unity Read our manifesto
ACTIVIST CALENDAR
Events and protests from around the movement, and local Left Unity meetings.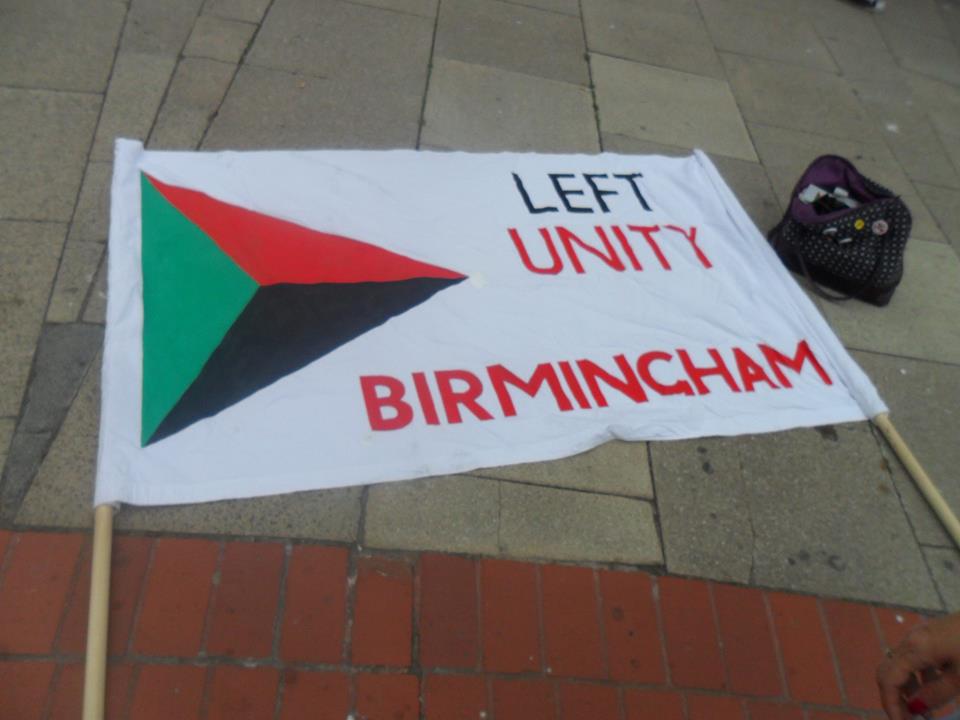 Sat 7 May, 14:00
Birmingham Left Unity Branch Meeting
Discussing UK immigration system, Israeli Apartheid and anti-semitism, housing campaign.

Sun 8 May, 12:00
Going Backwards on Climate Change
Join the march to say no more backtracking on climate issues.
Mon 9 May, 19:00
Left Unity Liverpool meeting
Academies and other attacks on education and children will be discussed. Everyone welcome.
Tues 17 May, 19:00
Psychology, Europe and Beyond | Ian Parker
Continuing the series of talks on Europe at Calder Bookshop, London.
Email: info@calderbookshop.com Tel: 020 7620 2900
GET UPDATES
Sign up to the Left Unity email newsletter.
CAMPAIGNING MATERIALS
Get the latest Left Unity resources.