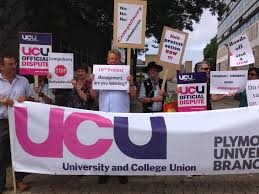 The current pensions dispute between the UCU and the Pre-92 university employers and Universities UK, the employers' organisation, is in many ways the most significant in the union's history to date, writes Jim Hollinshead. On the face of things, the dispute centres on attacks on the USS pension scheme, ending guaranteed pensions – a reduction in retirement benefits by between 20% and 40% depending on grade and length of service. A typical lecturer stands to lose around £10,000 a year. This is a massive and financially unnecessary attack. Really though, this dispute is about far more. It is about the future of Higher Education and the future of the UCU.
Higher Education has borne much of the brunt of attacks on the concept of education as a right for all. Universities are reduced from centres of excellence in scholarship, research and learning to (mostly very poorly run) businesses. The relationship between students and lecturers has been reduced to nothing more than a business transaction, from that between student, and educator and mentor, to 'customer' and 'service provider' – with students 'buying' the most expensive, and in most cases poorest 'value' degrees in Europe. The neo-liberal agenda is well-advanced in UK Higher Education establishments, and for years, staff and unions have been 'on the back foot', in retreat and largely demoralised.
This dispute is changing that. The membership is regaining the initiative within the union, demanding, and getting, more determined and effective forms of action. The first phase of the action has been escalating periods of action leading up to a full week of strike action ending on 16th March. Branches have fielded pickets in record and growing numbers, and recruitment has reached unprecedented levels, so rapid and in such numbers as to compromised the union's ability to process them. Branches not directly involved (Post-92 'New Universities' with members in the Teacher's Pension Scheme), like mine, have also felt the benefit in terms of unusual and rapid levels of recruitment. The next phase is working to contract, and preparing for another round of strike action, targeted to hit assessment and other crucial functions. There is still a long way to go, but if the mood of picket lines and rallies today was any predictor, members are more than up for the struggle.
The response of members earlier this week to the insulting offer made by the employers' organisation was telling – branch after branch calling emergency general meetings and overwhelmingly or unanimously rejecting the offer, and a significant lobby of the UCU head office demanding the offer's rejection.
This dispute is changing the mood in the union significantly. It will not be easy for either employers or bureaucrats to put this genie back in the bottle.