Mark Marchetto explains the problems with 'TTIP', a treaty that would give private firms the right to sue states for loss of profits.
The Transatlantic Trade and Investment Partnership (TTIP) is being sold as a trade agreement that will provide jobs and growth to its US and EU signatories. It is in fact an agreement to reduce regulation so that bankers and privateers can ride roughshod over workers' rights, ignore environmental legislation, dismantle the NHS – and sue any government that tries to intervene for loss of profits.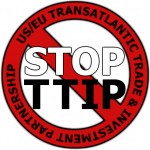 If TTIP is agreed, US companies will be allowed to operate in Europe under American laws, and vice versa. It will allow genetically modified products to be used in Europe and cheap, poorly reared, chlorine-washed poultry to find a market here. Large US farms will be able to undercut British farms. Our prime minister could plead a special case for the NHS to be excluded from this agreement, as the French have for their film industry, but refuses to do so. The Health and Social Care Act has been put in place specifically to pave the way for TTIP – it allows for any 'qualified' bidder (meaning private health firms) to carve up the NHS.
The 'Investor State Dispute Settlement' process (see video above) allows companies to sue governments for loss of future earnings if they fail to award them contracts – or try to change the law in any way that would hit private companies' profits. This threat would lead to governments seeking corporate approval for any legislation they may wish to introduce.
Left Unity agreed a motion to oppose TTIP at conference. We have since been asked to endorse the StopTTIP campaign by its founder Linda Kaucher. I feel we should not only officially endorse the campaign but actively support it. The campaigners at StopTTIP are engaged in researching this secretive, ultra-capitalist pact. I hope Left Unity members help them in any way we can.