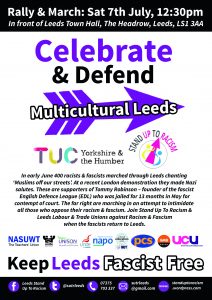 Celebrate and Defend Multicultural Leeds on Saturday 7 July – meet 12.30 Leeds Town Hall steps, Headrow – following Hardy Street Mosque, Beeston,Leeds, arson attack on 5th June 2018
Supported by Yorkshire and the Humber TUC, and regional branches of UNITE, GMB, Unison, NEU (NUT), NASUWT, NAPO, UCU and PCS, Keep Our NHS Public Leeds, Unite Against Fascism, Stand Up to Racism Leeds,Leeds Anti-Fascist Network, Leeds Socialist Party, Left Unity Leeds.
This Saturday 7th July, supporters of the fascist Tommy Robinson and the far-right Yorkshire Patriots groups are coming to Leeds in two separate mobilisations to try and use the anniversary of the tragic London bombings in 2005 to whip up racism and Islamophobia.
Following Tommy Robinson's arrest and jailing in Leeds for contempt of court after livestreaming outside an ongoing trial, the city has become a focus for his supporters and the wider far-right.  In June, his supporters marched through Leeds and some were heard to chant "Muslims off our streets". A week later there were two arson attacks on a Mosque and a Sikh gurdwara in Beeston in the south of Leeds.
The local community responded magnificently and organised with Leeds Stand Up to Racism for a peace march to the affected mosque and gurdwara to show solidarity with the majority who are opposed to racism and fascism in their area.
Stand Up to Racism is working hard to mobilise big numbers on Saturday, but they are not the only group organising in Leeds.
I was lucky to attend a meeting of over 40 people organised by Leeds Anti-Fascist Network and was impressed by the amount of young people mobilising in imaginative ways. It is regrettable that there are divisions in the movement, but I can also see this as a potential source of strength too. The key has to be unity in action and challenging the shift to the right.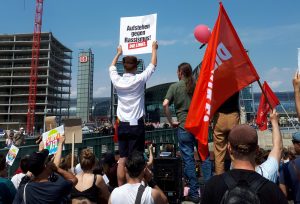 I recently attended mass protests against the Islamophobic Alternative for Germany (AfD) in Berlin. There were fifteen protests organised by a variety of groups – including political parties and trade unions, LGBT+, Refugees, Ravers and local communities. No one group claimed the protest – it belonged to everybody. The groups all worked together on the day and coordinated their actions. Many made their own banners. I attended eight of the fifteen protests and was overwhelmed when they united and marched into Berlin to occupy the AfD rallying point. It was militant and they shut down two railway stations to prevent AfD supporters have free reign of the city, by drawing a wide cross-section of Berliners – young and old. For more information about the protest follow the links below – but most important of all – make sure you are in Leeds to show that we will not let hate divide our wonderful city.
Leeds Anti-Fascist Network
Leeds Anti-Fascist Network is a group of people working together to create stronger anti-racist communities in Leeds. We aim to organise in our local areas of Leeds to build a network capable of confronting far-right and racist activity, based around information and skill-sharing events. By building a strong network we aim to stop them from taking our streets. We regularly meet up in different areas of Leeds – so if you want us to help organise something in your area get in touch.
Email: leedsantifascistnetwork@riseup.net
Facebook: facebook.com/leedsafn
Twitter: @AFN_Leeds
https://leedsantifascists.wordpress.com/
7th July event https://www.facebook.com/events/2153130104922289
Leeds Stand Up to Racism
Christian Hogsbjerg on behalf of Leeds Stand Up to Racism writes: "We want Leeds to be seen as a beacon for anti-racists and anti-fascists across the country, sending a clear message that the politics of hate and division will not be successful. Celebrate and defend multicultural Leeds by joining us from 12:30pm on 7th July outside Leeds Town Hall.  As well as political, trade union and community leaders we want to make our day a cultural celebration of diversity and a carnival of resistance to racism and we have a wide range of local performers, poets and musicians lined up to perform on the day."
https://standuptoracism.wordpress.com/2018/06/16/fascist-edl-not-welcome-in-multicultural-leeds/
Fascist Tommy Robinson Supporters Not Welcome in Leeds https://www.facebook.com/events/259323607968184/