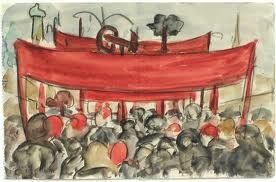 Peter Hill responds to Ed Rooksby's recent article on this website.
Rooksby outlines three possible models for left-wing organization in Britain, which are emerging, he argues, in 'embryonic form'. The first is the 'networked movement of the Left' called for by Owen Jones, 'which would encompass activists from both within and outside the Labour Party'; the second is the idea of the 'People's Assembly'; the third is 'the Left Unity model': 'the embryonic form of a new broad church party of the left'.
Rooskby presents these as more or less alternative strategies, and recommends the 'Left Unity model' (a separate party) as against the 'Owen Jones model' of a network extending into the Labour Party. He admits that the second model (the People's Assembly) could work as a kind of second string to the Left Unity model, but presents the network model and the Left Unity model as very much opposed. But I don't think that these two options are necessarily mutually exclusive. In fact, some combination of the two may well arise whether Left Unity intends it to or not. If Left Unity succeeds in mounting a firm challenge to Labour from the Left (and most crucially an electoral challenge, given that votes are the bottom line for the current Labour Party) then Labour will have to respond. Of course it might decide to become even more firmly centrist and effectively kill off what remains of the Labour Left. But more likely is that Labour would respond by opening up space for leftist initiatives within the party. That might take some of the wind out of Left Unity's sails but would mean more scope for the Labour Left, as well as, perhaps, a close but fraught relationship between them and members of Left Unity.
This might take a while to develop, especially if Left Unity mainly gets off the ground by attracting Labour Party members away from Labour. And certainly a lot of the interest in Left Unity now seems to be based on a desire precisely to break out of the Labour Party's grip. But despite this I wonder if, over time, we might not see something like the dynamic that existed between the old Communist Party and the Labour Left from about the 1920s through to the 1960s. Edward Thompson has an interesting description of this in his 'The Peculiarities of the English' (Socialist Register 1965). As he saw it, the Communist influence on Labourism was both profound and deeply ambiguous. 'In one sense, Communism has been present, since 1917, as the opposite pole to orthodox right-wing Labourism.' But: 'In another sense, Communism has been throughout the alter ego of the Labour and trade union Left.' There were thus 'peculiarly close – although not always cordial – relations' between the Labour Left and the Communist Party, as 'the Labour and more especially the trade union Left has over long periods operated from ideological and, to some extent, organizational bases outside the Labour Party altogether.' These bases were those 'maintained by the Communist Party: in its press; in its trade union and shop-floor militants; and from time to time in very much broader popular-front organizations.
If Left Unity can get to a similar position to the old CP in terms of organizational success, and if this provokes a greater openness to left-wing thinking within the Labour Party, as it is likely to, then such a situation might arise again. In other words, there would be a separate party (Rooksby's 'Left Unity model') acting as a base for networks which extended across a much wider left and into the Labour Party (the 'Owen Jones model'). Many of the those now considering getting involved with Left Unity have some past or present connection to the Labour Party; and even if they join a rival organisation, those links are not likely to be entirely severed.
Particularly if Labour were to create more space for its own Left in an attempt to deflect the Left Unity challenge, there would be a great deal of common ground between the Labour Left and Left Unity. Their members would find themselves in close contact in union meetings, in shared campaigns and initiatives, on municipal councils, and so on. Left Unity might possess, like the old CP, the intellectual and cultural capital to provide the Labour Left with some elements of a socialist ideology: left-leaning Labour members reading Left Unity or Left Unity-linked blogs and publications rather than the staider Labour Party productions; and getting involved in campaigns run largely by Left Unity people. We might then see Left Unity, like the old CP, exercising an influence far beyond its numbers over Labour Party members, by similar means: press and websites, contact between militants and wider campaigns. There would also be the same kind of ambiguity about the relationship, for Left Unity would also still be acting as a separate political party mounting an explicit challenge to Labour.
This is of course speculation, and it's early days to be thinking about it while the Left Unity movement is still in the process of formation. But we should perhaps be considering, even now, what kind of relationship between Left Unity and Labour would be likely, or desirable. Is a degree of influence on and connection with the Labour Left important – or should Left Unity hold out for greater independence? Would keeping those channels with Labour open be a healthy thing, connecting Left Unity to a wider movement and ensuring it remained relevant? Or would it just serve to drag it back into orbit around a basically non-socialist Labour Party? What is the best line to take, between the dangers of isolation and factionalism on the one hand, and those of absorption into orthodox politics on the other? I don't pretend to have the answers, but these are questions the Left Unity movement will have to confront at some point.