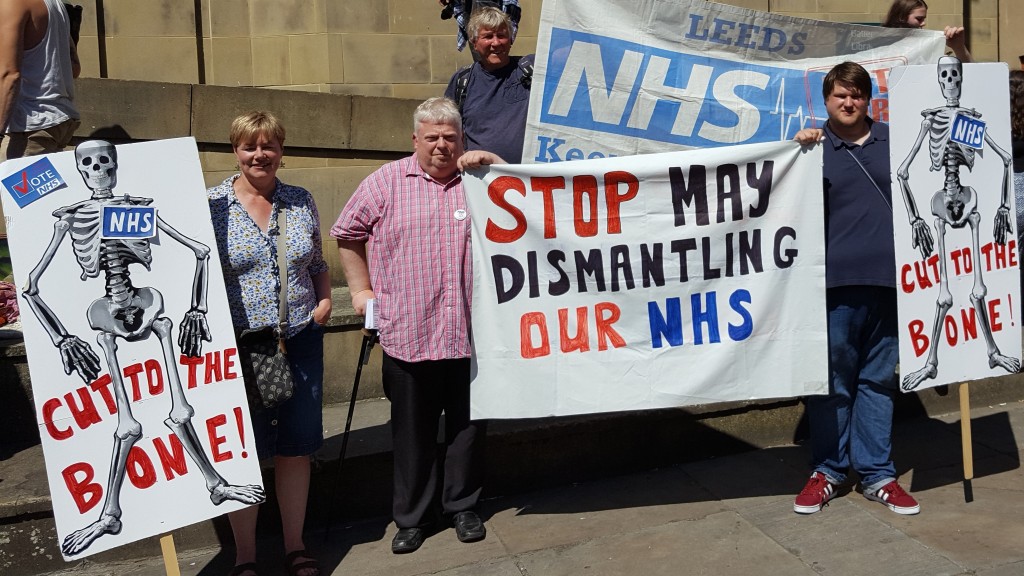 Around two thousand people protested in Leeds yesterday to demand Theresa May and her Government resign, reports Nick Jones from Leeds Left Unity.
The protest was originally called in response to the incorporation of the Democratic Unionist Party into the Government but the anger after the terrible events in London and the Grenfell tower block fire fuelled chants of 'Justice for Grenfell! Get May Out!'. The protest began with a minute silence for the victims of the fire.
People were marching for many reasons. They wanted Justice for Grenfell, an end to cuts that endanger people's lives and an end to bigotry. NHS campaigners chanting 'Save Our NHS' and spontaneous cheers for the Fire Service.
'DUP – Go Away – Racist-Sexist-Anti-Gay !'
People were appalled by the DUP and the organisation's links to anti-Catholic terrorism and backward attitudes to women and abortion. Many came from the LGBT+ community appalled by Iris Robinson's comments that: 'Gays are more vile than child abusers', and had read that some elected DUP leaders wanted to recriminalize 'homosexuality' and their virulent opposition to 'gay marriage'.
Intermittently the march broke into a chorus of 'Oh Jeremy Corbyn' and hundreds of bystanders applauded and cheered whilst cars tooted their horns in support. There was a real feeling of the many at the bottom of society turning on the few. Hatred of austerity and the drive to cut corners for profit that cheapens human life and led to the terrible disaster in London.
Many will be heading to London on the 1st July – demanding this Government goes and takes May with them…if she still manages to cling on until July.