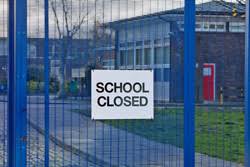 The Government proposals are clear – but lack basic planning, resources and risk assessment; they are being reckless with the lives of staff, pupils' families and the wider community.
The British Medical Association slammed Government proposals:
"There is no detail of how those being asked to return to work will be protected from the infection or prevented from infecting others and there are mixed messages about returning workers not using public transport when many will not own cars. These pose serious risks of further spread of the infection."[1]
Despite this advice the Government propose to put the youngest children in a school setting when they are unable to open up Youth Centres and Cafes.
"A phased return for early years settings and schools. Schools should prepare to begin to open for more children from 1 June. The Government expects children to be able to return to early years settings, and for Reception, Year 1 and Year 6 to be back in school in smaller sizes, from this point. The Government's ambition is for all primary school children to return to school before the summer for a month if feasible, though this will be kept under review. The Department of Education will engage closely with schools and early years providers to develop further detail and guidance on how schools should facilitate this."[2]
The National Education Union has dismissed these moves as reckless.
The National Education Union has written three times to the Prime Minister and the Secretary of State for Education outlining concerns that our members and parents and carers of children in our schools have raised about the crisis. We have asked the Government to share its evidence and modelling with us. We have asked for the publication of peer-reviewed science. So far, we have received no response.
The #Five Tests laid out by the NEU are very sensible and should be adopted by all. The tests are.
§  Test 1: Much lower numbers of Covid-19 cases
§  Test 2: A national plan for social distancing
§  Test 3: Testing, testing, testing!
§  Test 4: Whole school strategy
§  Test 5: Protection for the vulnerable
We fully support teachers and education workers who are resisting attempts to force people back to work in unsafe conditions that put the NHS at risk of breakdown if a future crisis breaks out.
More than two million elective surgery operations have been cancelled and people desperately need treatment.[3] Cancer screening services have been effectively paused:
Cancer Research reports: "But with around 200,000 people per week no longer being screened for bowel, breast and cervical cancer across the UK, there will be a significant number of early cancers left undetected before these programmes can be reintroduced"[4]. Fewer patients attending GP surgeries has seen a 25% drop in referrals with an estimated 2,300 cancer cases not being diagnosed each week.
It is imperative that we resist Johnson's end to the lockdown that will inevitably put even more lives at risk.
Read the NEU Press Release below:
National Education Union Press Statement in response to Prime Minister Boris Johnson's announcement on relaxing of the lockdown and the phased return of schools
Dr Mary Bousted, Joint General Secretary of the National Education Union, said:
We think that the announcement by the Government that schools may reopen from June 1 with Reception and Years 1 and 6 is nothing short of reckless.
Coronavirus continues to ravage communities in the UK and the rate of Covid-19 infection is still far too great for the wider opening of our schools.
A study published last week by the University of East Anglia suggested that school closures are the single most effective way of suppressing the spread of the virus.
If schools are to re-open, we need the Government to meet the five tests we have set to keep children, their families and our staff safe.
There must be much lower numbers of Covid-19 cases [1], with extensive arrangements for testing and contact tracing to keep it that way [3]. This test has manifestly not been met.
We must have a national plan for social distancing, hygiene, appropriate PPE and regular testing to ensure our schools and colleges don't become hot spots for Covid-19 [2 and 4]. This test has manifestly not been met.
And there must be plans drawn up to protect vulnerable staff, or those who live with vulnerable people [5], to stop more educators or members of their families dying of this dreadful disease.
We are supported in this by nearly 400,000 staff and parents who have signed our petition to reopen schools only when it is safe. And Parent kind, one of the largest parents' groups in the UK, back our tests.
We have written three letters to the Government for the science around school reopening, to share the modelling it is using and discuss the concerns raised by our five tests. We have received no reply.
If schools are re-opened to blatant breaches of health and safety, we will strongly support our members who take steps to protect their pupils, their colleagues and their families. The worst outcome of any wider re-opening of schools is a second spike of Covid-19 infection.
Our members care deeply about the children they teach – and no-one is more aware of the struggles faced by vulnerable pupils, or those from vulnerable families, than their teachers. If schools cannot safely re-open, we need other ways of supporting those children. For instance, the better weather gives us a chance for some education to take place outdoors, where children are least likely to pick up infection.
The NEU will survey its members immediately after the Prime Minister has spoken to gauge their reaction to this announcement.
We urge the Government to follow the example of the Welsh and Scottish governments who have made the decision not to re-open schools at this time.
Now is the time for Government to listen and do the right thing.
NEU press release – 10 May 2020
---