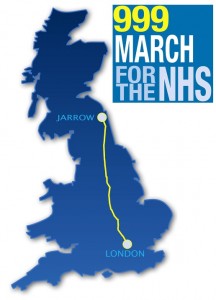 Campaigners are planning to march across England this summer, following in the footsteps of the historic Jarrow marchers, this time in defence of the NHS.
The march, initiated by women in Darlington who go by the Twitter hashtag '#darlomums', has seen more than 500 people register so far to walk anything from a short stretch to the whole route.
Joanna Adams, one of the organisers, says: "At a time when armchair activism is the norm, emails are flooding in with offers to help organise, and to walk one or more of the legs of the route. The route is split up into sections of 10-15 miles making it easy for groups to join in."
The march will leave Jarrow on 16 August and stop over in towns and cities along the 300 mile route. It plans to reach parliament in London on 6 September.
Left Unity fully supports this initiative and all campaigns to defend our NHS.
For more information go to 999callfornhs.org.uk and follow @999CallforNHS on Twitter.