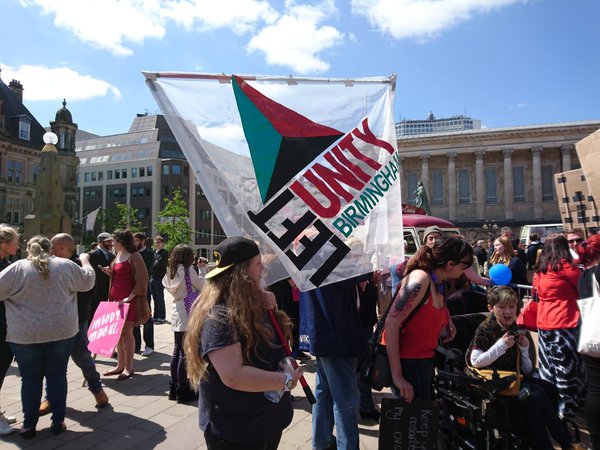 The Birmingham Bin Strike is back on. The optimism two weeks ago that a deal had been struck has now turned to disappointment and anger.
Unite the Union went to ACAS, a deal was made with Birmingham City Council, and members agreed to suspend strike action on the basis there would be no redundancies. Friday last week, in a complete turn round, workers received redundancy notices.
The leader of Birmingham Council, John Clancy, effectively called Unite official Howard Beckett a liar, by claiming that there was no deal in place. ACAS made the unusual move of issuing a statement regarding the details of the agreement reached on the 16th August on their website which states:  "Birmingham City Council cabinet members have agreed in principal that the grade 3 posts will be maintained. Consequently there are no redundancy steps in place."
Left Unity stands beside the workers striking to maintain their jobs.
The workers are clear that the Council has mismanaged the service by paying agencies money to workers on zero hours contracts for years. Safety needs to be maintained at the rear of the vehicles and much could be done to increase income generation within recycling operations.
The strikers are united and determined and this dispute is likely to go on till at least Christmas. The Labour-led Council must stop this dispute: they must at the very least honour the agreement made on the 16th August at ACAS. It is disgraceful that a Labour council would issue redundancy notices to their own workers in an unlawful move as there was no redundancy process in place after the 16th.
Sharon McCourt, Left Unity principal speaker, said:
"The way the bin workers are being treated by Birmingham City Council is disgraceful and our streets are being filled with uncollected rubbish. Rats and other vermin are ripping the bags to pieces – it is causing a health hazard. The Labour Council needs to stand up and stop this dispute: stop implementing cuts to vital services – cuts by central government need to be opposed. Austerity cuts have been rejected by the public. Stop fighting and punishing your workers for the cuts to your budget, stand by the workers trying to maintain their standard of living – 10 times less than council officers – and take the fight to the government. I do not blame the bin men for this, the fault lies with BCC and they need to sort this now. I stand shoulder to shoulder with those opposing redundancy and pay cuts and while alongside all other residents of Birmingham we watch our waste pile up, I support the workers in their struggle. Birmingham Labour City Council – over to you – give them a fair deal and stand up and be counted. Take the fight to the government."