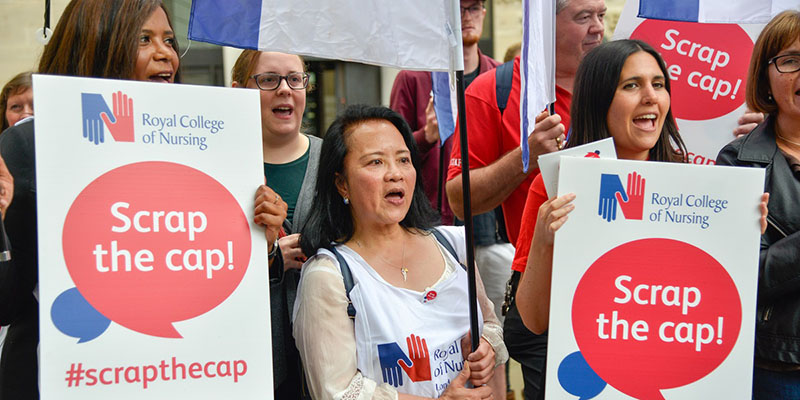 On September 15th fourteen NHS trade unions announced that they were submitting a joint claim
for a 3.9% pay rise to match inflation and an additional £800 lump sum payment for every NHS employee to partly make up for pay lost in the past 6 years of pay freeze and pay cap, writes Marc Renwick
The claim also calls for the pay award to be fully funded and not taken from existing budgets that are already facing pressure from cuts and privatisation.
Since 2010 this combination of pay freeze and an 1% pay cap for NHS staff has seen a pay cut in real terms of around 14-15%.  This pay cut has had an obvious economic impact for health workers and their families struggling to make ends meet but it has had a huge effect on staff morale and on staff recruitment.
Currently there is an estimated staff shortage of around 86,000 unfilled posts in the NHS.  20% more nurses and midwives left the register than joined it in 2016-17.  This is alongside a 96% drop in EU nurses registering to work in the UK since the Brexit vote.
A properly funded pay increase can only help to secure the future of the NHS, making it an attractive place to work by recruiting and retaining staff which will help alleviate staff shortages, reduce workload pressures and make care for patients safer and more effective.
The government strategy of pay cap obviously doesn't just affect NHS staff. At TUC conference Labour and trade union leaders called for an end to this austerity driven policy of 'real term' public sector pay cuts.  There is a real opportunity to campaign for and win strike action across the public sector that can force May's government to Pay Up Now.
Instead of another winter crisis for the NHS – let's see a winter of discontent for the Tories!