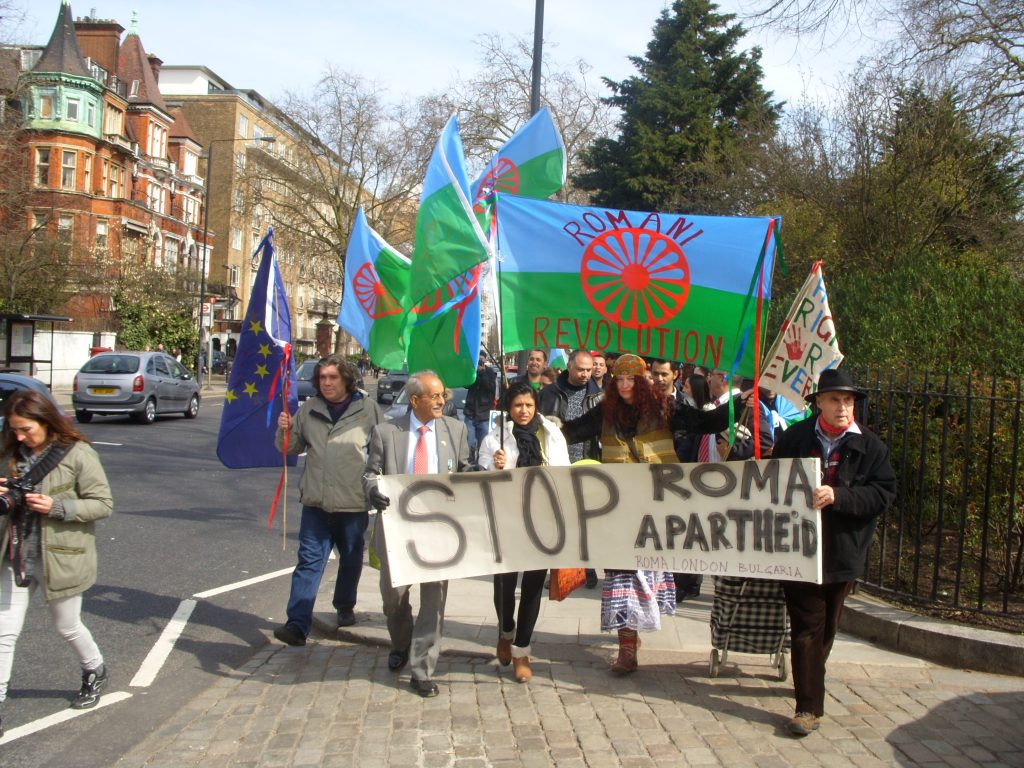 As the Italian prime minister begins an attack on the Roma, Left Unity conference passes new policy in support of Roma, Gypsies and Travellers' rights here in Britain. Dave Landau moved the motion at our conference.
'The Rom or Romani people originated from North India getting on for a thousand years ago.  Roma languages and dialects are closely linked to Sanskrit and there are many words in Hindi, Urdu and Punjabi which are the same.
They are a diaspora people spread throughout Europe much of the Middle East and more recently the Americas.  During most of their period, whilst providing important roles in the economy they have been persecuted and treated with suspicion.  In Britain it was a hanging offence to be a Gypsy at one time.
Roma were a central target for the Nazis to exterminate and somewhere between a quarter of a million to more a lot more than half a million are estimated to have been killed by the Nazis.  They have almost been written out of history but Roma are fighting for the genocide against them to be recognised.
Roma across Europe suffer severe persecution.  For example, In Hungary Roma settlements have been burned down and people killed.  In Italy and France the Government organised mass evictions of Roma throughout cities, in the last few years.
Gypsies and Travellers in the UK mark the intersection of Roma and the Parvee, Irish Travellers who do not have the Indian connection.  But they are treated in the same way as Gypsies by the British State.
In the late 60s in Britain it became policy for local authorities to provide sites of Gypsies and Travellers.  This was not entirely benevolent in motivation; it was a way of controlling people.  But in 1994 this obligation was taken away.  Travellers asked what to do.  The Tories encouraged them to buy the land.  People struggled to raise the money and buy the land but of course were refused planning permission in most cases.  So in some cases they moved on to their land anyway and then evicted from their own land.  This is what happened in Dale Farm where for once there was militant resistant with solidarity action for the first time in a long time.
Dale Farm also highlighted another issue – discrimination and lack of support for Gypsies and Travellers in education.  One of the reasons that the people in Dale Farm were so determined to stay was because the local school was really supportive of the children and had the trust of parents and children.  This is exceptional and the community weren't prepared to be broken up and end up somewhere where there educational opportunities would be low.
Now there is a new attack.  Despite the fact that the courts recognised Gypsies as an ethnic group the Government have redefined Gypsies and Travel housing purposes as people who move regularly.  So people on an established settled site can be deemed to be no longer Travellers.  But of course, when they do move from place to place they are moved on and stopped that way.  Now there is a new attack with proposed new laws to criminalise Travellers with no fixed site who pull in on to unauthorised land.  Catch 22s all round.
This has been a whistle stop tour of the situation facing the Romani people.
I would finally note that this is a development of our position on freedom of movement.  Gypsies and Travellers are being denied freedom of movement within Britain and Roma are the most targeted of ethnic minorities and migrants because they are a Diaspora people.