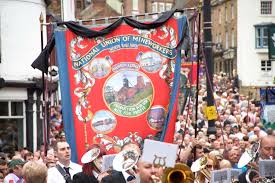 Roads were sealed off in Durham centre as over 200,000 trade unionists, campaigners and socialists took part in the 133rd Big Meeting, reports Nick Jones from Leeds Left Unity.
The atmosphere was great – young people with 'Team Corbyn' t-shirts, the historic Miners' banners held high with portraits of Karl Marx, Lenin, Rosa Luxemburg, Keir Hardie and famous trade union leaders like A.J. Cook carried by groups wearing  Corbyn badges and stickers. The banners and brass bands intermingled with campaigners for the NHS, Womens' Pension Equality alongside families eating ice-cream and people enjoying a pint. It is a festival and a celebration of resistance – honouring the past struggles and linking them to the present. The Orgreave Truth and Justice Campaign, Lesbians and Gays Support the Miners marching alongside big trade union contingents from the GMB, UNITE, UNISON, RMT, FBU, NUT, NASUWT.
The first Gala was organised by the Durham Miners' Association and held in 1871 and has been addressed by leading communist and socialist politicians over the years. It has grown to become the biggest working class celebration of art, music and culture in Europe. There was clear excitement that the Labour Leader Jeremy Corbyn was addressing the crowds this year.
The atmosphere reached a highpoint outside the County Hotel where brass bands and marchers are welcomed from the hotel balcony. I was lucky enough to be marching alongside Durham Keep Our NHS Public – we heard applause which then broke out into loud cheers for the NHS.
The park was crammed with people by 2.00pm and was addressed by Angela Raynor (Shadow Education Secretary) and a range of trade union leaders. Matt Wrack from the Fire Brigade's Union spoke movingly about the Grenfell tragedy and paid tribute to the work of firefighters- who along with other public sector workers were denied a pay rise. There is a mood for a more radical politics, socialism is back on the agenda and the Blair years of greed, strike breaking, privatisation of hospitals and schools a thing of the past. Blair turned his back on the Gala and now people have rejected his rotten politics in favour of a radical Labour manifesto.
The film director Ken Loach said to applause:
'We stand at a moment of great hope…the wind is in our sails. We nearly won a great victory and we will do next time. The wind is with us.'
Jeremy Corbyn followed Ken and the crowd's cheers could be heard from a distance. He called on May to resign and call a general election. The enthusiasm for the Labour leader is genuine and heartfelt. He arrived unannounced at the railway station to be greeted to cheers and a chorus of 'Oh, Jeremy Corbyn'. He was at ease, chatted as people took selfies. The next Prime Minister in waiting – I hope so. We need a Corbyn-led Labour Government – and we need so much more. Corbyn said, 'Parliament alone will not change society, it's what we do in our daily lives and in our campaigns that is important.'
The unity and strength of unions and campaigners is a force to be reckoned with. The Tories are propped up by bigots for hire in the DUP. This coalition could end soon if we united against them – the public sector pay campaign and an autumn of discontent could do the trick. People have had enough of cuts and austerity and we can win.