Placard and broadsheet: NHS Emergency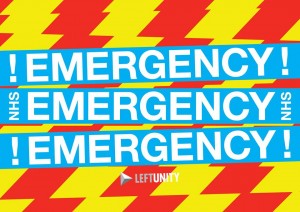 A call for people to take action now! To fight cuts to vital services, STPs, privatisation and blaming 'health tourism' for the failures of successive governments to protect our health service.
Click to view broadsheet (PDF).
Order printed copies:
Materials are free, but we ask for a donation to cover postage (suggested donation is £2 for smaller orders and £4 for larger ones). Please email office@leftunity.org with your order and mailing address.
---
Left Unity is active in movements and campaigns across the left, working to create an alternative to the main political parties.
About Left Unity Read our manifesto
ACTIVIST CALENDAR
Events and protests from around the movement, and local Left Unity meetings.
Friday 28 April, 18:00
Never Again! Marking 50 years since the Military Coup
Speakers, banned songs and Greek food with the Greece Solidarity Campaign and Anti-Fascist Action for Greece. Unite the Union HQ, Holborn, London.
Facebook event here
Wednesday 3rd May, 14:00
Eleanor Firman memorial meeting
Remembering our much-loved comrade. Hosted by East London Unite Community.
SharnHall Methodist Church, Walthamstow E17 9HX
https://www.facebook.com/events/256691064802972/
Monday 8 May, 19:30
Punk, Culture and Socialism
Presented by West London Left Unity & Artists for a Left Future, with Ray 'Buddy Hell' Campbell & Lally Laud at Churchfields Cafe, W3 6EBMusic, cakes, coffee and discussion. Free entry. FB event: https://www.facebook.com/events/201094907055140/
Saturday 24 June
March for Homes
Join the movement preparing for this demo: private, council, housing association and co-op tenants, unions and housing campaigners
To get involved email info@axethehousingact.org.uk or call 07432 098440
Sun 23 – Sat 29 July
International Youth Camp, Otranto, Italy
The Fourth International's annual youth camp – find out more about socialism, feminism and environmentalism.
For more information email contact@socialistresistance.org
GET UPDATES
Sign up to the Left Unity email newsletter.
CAMPAIGNING MATERIALS
Get the latest Left Unity resources.