Tom Walker gives his view of the People's Assembly recall conference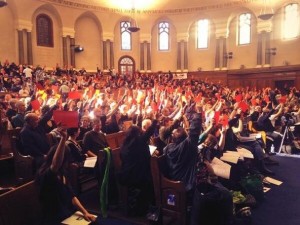 The People's Assembly conference in London on Saturday saw hundreds come together to discuss the way forward for the anti-austerity movement. This was a 'recall', following the big launch event last summer, and was a motions-based delegate conference. I was part of Left Unity's delegation of five.
As you might expect, the conference had a packed agenda (especially as it did not break into workshops or sub-assemblies), but still managed to cover themes as wide-ranging as the economy, employment rights, housing, anti-racism, education, the NHS and climate change – even if some of them were only discussed for 10-15 minutes.
Motions were submitted by an array of groups, including local People's Assembly groups, trade unions and local and national anti-cuts campaigns, which were given time to address the audience about their struggles.
Paula Peters from Disabled People Against Cuts outlined their campaign, and said about Atos, "Four years ago no one had heard of them – now we've got them on the run." Dr Jacky Davis spoke about what's happening in health, saying, "Our job is to keep the NHS at the top of the agenda." And Adam from Cardiff People's Assembly spoke about the "festival of opposition on the streets of South Wales" planned when Nato comes to Newport on 4 September.
Many more people could be quoted – Dave Kellaway's report goes into some more detail. This was the feel of the day: a wide array of campaigns, and an almost dizzying calendar of dates, from the budget day protests this Wednesday through to the TUC's planned mass demonstration on 18 October. Fittingly, the day opened with moving tributes to Bob Crow and Tony Benn, and finished with a call from the NUT's Christine Blower to "stand with us on 26 March when we will be holding a national strike".
Questions of organisation
I think it's fair to say, though, that there was relatively little debate on these matters, as there was overwhelming agreement to back all the campaigns against the effects of austerity on every part of our public services and our lives – as ever it was worthwhile to discuss them, but the motions didn't really come into it. Interestingly, the area that attracted more debate was the organisation of the People's Assembly itself. This was expressed primarily through a series of motions contesting how centralised or decentralised the organisation should be, in particular under the 'structure and finance' zone.
Under structure, there was a radical amendment from the Manchester People's Assembly, clearly influenced by activists' experiences in Occupy Manchester. It called for a shift to participatory methods, including consensus decision-making. The Signatories group (that is, organisations and signatories to the original People's Assembly appeal) acted as an executive, and made clear its opposition to this and other amendments as a bloc. While it was defeated, however, it did gain the support of around a third of the room.
The most contested debate though was under finance, where some local groups had taken exception to the Signatories' plan to create an individual membership scheme for the People's Assembly, with prices set at a minimum of £1 per month (though free for unwaged). The motion also, somewhat incredibly, included a provision that all local groups would have to pay the centre £60 a year for various items of administrative support. National secretary Sam Fairbairn had earlier set the scene for this approach when he said, "The truth is that the central infrastructure is far too small… Strengthening the national infrastructure has to be an absolute priority."
Danni from the Brighton People's Assembly noted that this was a model that "has all money flowing to the centre". Brighton's amendment instead called for 30 percent of membership fees collected nationally to be paid to local groups (Left Unity members may note that this is very similar to the model in our party's constitution). Treasurer Nick McCarthy, however, put the case that "fighting austerity is an expensive business" and "it's too early to start redistributing money to local assemblies that we don't currently have". Brighton was persuaded to remit its amendment.
This left the way clear for West Yorkshire People's Assembly, which had put an amendment opposed to the whole membership scheme, arguing "the People's Assembly should be a network of individuals and organisations with no barriers to participation" – or as the amendment's proposer put it, "We don't feel the People's Assembly should be a membership organisation – it is an umbrella organisation." It called for all funds to flow through local groups. In a surprise development, this amendment passed by 205 votes to 174.
Coordination and control
All that may sound like an account of a debate that would only matter to finance nerds – but, as suggested by West Yorkshire, this was really about what kind of structure the People's Assembly should have. Is it a highly centralised national campaign office, or a loose umbrella group? Across several motions, local delegates sent a message loud and clear that while they want national coordination, they do not want national control.
It is no secret that many people's concern about the People's Assembly has been its top-down structure – declaring itself to be 'the movement' on the basis of a big conference, and then appointing various individuals to positions without a wider democratic process. As demonstrated at the conference, we can agree on most of the politics: the question is how to organise to put them into practice.
It is not the case that the People's Assembly's structure is now perfect – Left Unity, with its regular conferences, national councils and most recently a membership-wide election, still has a greater level of democracy in my view. But the modest ability of local People's Assembly groups and campaigns to set the agenda at the recall conference and begin to take some ownership over the organisation surely shows that there is more space within it than some had thought. The People's Assembly leadership now faces a test: it must ensure it follows the will of the delegates in retaining an umbrella structure and making sure local groups, not the centre, hold the power in the organisation. That will be a sound basis for anti-austerity resistance to grow.
Overall the day was a step forward for the real living, breathing movement – and it was also, importantly, a step forward for democracy inside the People's Assembly.
To submit an article for the 'Discussion & Debate' section of our website please email it to info@leftunity.org