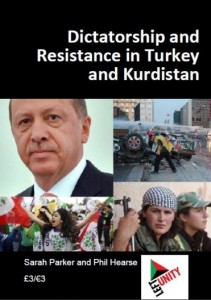 Sarah Parker and Phil Hearse authored this 60 page pamphlet about the struggle of the Kurdish people against Turkey's dictatorship.
"Welcome to Turkey 2016, where the experiment with 'liberal Islam' has collapsed. While this crushing of human rights takes place on its borders, the leaders of the European Union say little or nothing"
To order, email info@leftunity.org with your mailing address. We ask for a small donation of £3 plus £1 p&p for this pamphlet, which can be made online or by cheque.
Coup and Counter-Coup in Turkey and Kurdistan – update
Since the dramatic events of 15/16 July 2016 the authors have written a supplementary document available to download as PDF here.