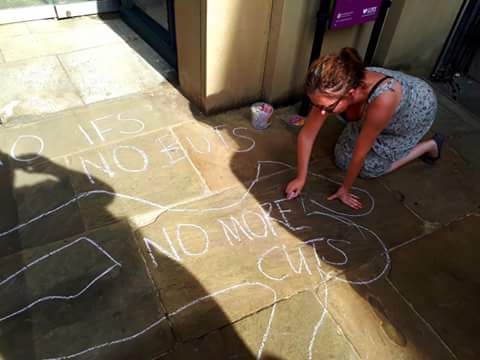 The bins are over-flowing.
The shops are closed.
The pot holes fill the roads.
Children centres are closing.
Libraries are shut.
Bianca Todd writes: Section 114 orders have been given. Then they were given again. That in itself is a problem. However in Northampton the problem is more than that – it is about the fact that the leader of the council was presented with details of the financial crisis years ago and chose to ignore this.
At council meetings, opposition to the Conservatives councillors has been weak, disorganised and failed to connect to local communities in order to build capacity with the goal to empower local people, service users to challenge the cuts to the services that they rely on.
Women, children and disabled people have been hurt most by the budget cuts. Retail has felt the brunt of austerity too, with shops boarded up, closed sadly with homeless people reclaiming them as their homes.
Today was an important day. It was a chance for the council to make a positive statement about their intentions. Instead as they have done consistently over the past five years – they provide a rhetoric that is without substance, telling Northamptonians that they will look after the most vulnerable people – but we know this is not true as the voluntary sector soaks up the excess need across every element of social care and health.
Other councils are following in Northampton's footsteps, but it doesn't have to end up this way. Labour councillors have a choice – they should refuse to sit and endorse the budget of cuts, they should show solidarity with those who voted them in – refuse to sit in a council chamber whilst the council endorses decisions which will hurt their constituents so painfully. Stand up and take a place in the public gallery. Being a bystander to cuts, is now more than being a bystander to a motion – it is being a bystander to a decision which will ultimately result in death.