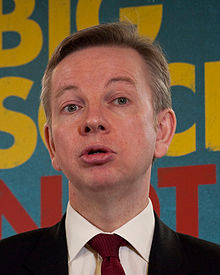 Since his appointment as Education Secretary in 2010, Michael Gove has been intent on 'reforming' the school history curriculum, managing to alienate even some of his right-wing advisors in the attempt. Gove has argued that Britain's status as an island is core to our history. Keith Flett thinks that he might have a point here – but interprets its importance in a very different way.
Michael Gove has an upper second degree in English from Oxford, which while is certainly does not prevent him from commenting on and having an opinion about history, does not particularly make him an authority on the subject.
Yet Gove, as Education Secretary in a Coalition Government, has loomed large in discussions about school history.
This is what he wrote in October 2010:
One of the under-appreciated tragedies of our time has been the sundering of our society from its past.
 Children are growing up ignorant of one of the most inspiring stories I know – the history of our United Kingdom.
 Our history has moments of pride, and shame, but unless we fully understand the struggles of the past we will not properly value the liberties of the present.
 The current approach we have to history denies children the opportunity to hear our island story. Children are given a mix of topics at primary, a cursory run through Henry the Eighth and Hitler at secondary and many give up the subject at 14, without knowing how the vivid episodes of our past become a connected narrative. Well, this trashing of our past has to stop.
At this point Gove announced that Simon Schama had been appointed to address the matter. As Schama recently reminded us at a memorial meeting for Eric Hobsbawm, while some may debate his historical judgements, he remains an historian of the left.
Schama disappeared from Gove's history, as the ideology was ramped up. In his place came the undisputedly right-wing Niall Ferguson. More recently Gove has noted that his views on school history have also been influenced by a range of right-wing historians including David Starkey who is without doubt very right-wing indeed.
Gove's emphasis has been on trying to 'fiddle' with the school history curriculum. I use the word advisedly. He is not making the kind of structural changes to it that would require Parliamentary scrutiny. Rather he is tinkering.
Proposals for a new history curriculum content appeared earlier this year and were subsequently spirited off by Gove and his team for revision. It was not clear exactly what transpired but at the end of the process Gove's right-wing advisors on history were to be found criticising him rather than supporting him. Niall Ferguson produced a critical piece for The Guardian.
In the meantime a campaign had at least prevented Gove and other Tory ideologues from removing significant figures in black British history such as Mary Seacole from the curriculum altogether.
The most recent Gove history intervention has come in a speech at the Brighton conference in early May. Here Gove again supported school history as our island story and criticised existing school history teaching. In particular he was concerned that an exercise with Mr Men was being used to teach pupils about Hitler.
As with so much of Gove's thoughts this was ideological bluster not reality. What was actually happening was that a group of senior pupils who had already learnt about Hitler by the usual method of studying the subject, were using Mr Men characters in an exercise with more junior pupils to demonstrate that they had grasped the essence of the matter.
Gove was quizzed about the matter at a Commons Select Committee on Education on 15th May. Here he revealed the source for his Mr Men comments. It was- Gove. He had 'researched' the matter himself. He had of course come to the wrong conclusion about what was happening but instead of apologising he noted that no one could argue that Mr Men was involved in the teaching of history at a particular school.
Still, perhaps Gove does have a point about our island story. It is one of colonialism, imperialism, a bloody Empire and slavery. It is also a story of those who fought back. The work of historians like Peter Linebaugh and Marcus Rediker on the Black Atlantic has demonstrated that the history of the British Isles must go much further than Britain itself. Perhaps a figure like William Cuffay, the son of a black slave from St Kitts who had travelled to Medway as a cook on a British Navy ship, went on to become the leader of London Chartism and was transported to Tasmania for his efforts should be the cornerstone of Gove's history curriculum.