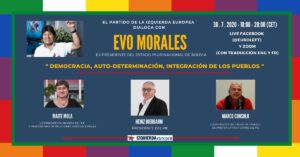 You are invited to join a Webinar organized by the European Left: "The EL meets Evo Morales: democracy, self-determination, and people's inclusion". This event will take place on Thursday 30th of July  from 5-7pm (UK time).
Participants in the debate will be Evo Morales, former president of the Plurinational State of Bolivia, Heinz Bierbaum, President of the EL, Maite Mola, first Vice-President of the EL, and Marco Consolo, Coordinator the Latin America and Caribbean working-group of the EL.
The meeting will be streamed through FB and Zoom and will be held in Spanish, with translation into English and French available.
Please find more information and the zoom link here