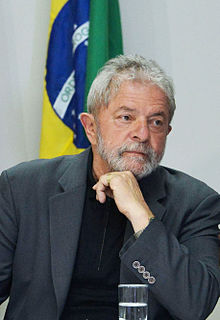 Left Unity supports the following statement in support of former President Lula da Silva of Brazil
We condemn the continued persecution of former Brazilian president Luiz Inácio Lula da Silva, who was jailed a year ago.
Lula was favourite to win Brazil's 2018 presidential election until he was jailed and barred from standing, in a move condemned by the UN human rights committee. The election was subsequently won by the far-right Jair Bolsonaro, who has said he hopes Lula "rots in prison".
Astonishingly, Judge Moro, who oversaw Lula's trial, has now been appointed as Bolsonaro's minister of justice.
Lula is a political prisoner. We call for his freedom and stand in solidarity with those struggling for democracy in Brazil.
#FreeLula – #LulaLivre!
The published letter and signatories can be found here
You can add your name here