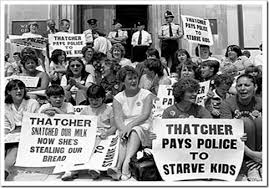 Doncaster activist Louise Harrison challenges Labour to put up a fight.
Interesting. This argument for me encapsulates everything I've heard over the last two years from Labour Party Unite members who argue that the Labour Party is like it is because people like me aren't in it pulling it to the left. In reality it's the same argument I've heard for years. What people don't ask is , if you were ever in the Labour Party in the past and what was your experience? I did start off in the Labour Party at 16, after the miners' strike lost. My dad was a miner, but my mum was the activist, involved in women against pit closures. I walked in the meeting and saw posters supporting the steel strike on the wall from 4 years ago, not one poster supporting the miners. Pits surrounded the local Labour Party. I questioned it, but it wasn't until the young socialists were disbanded by Doncaster party hierarchy for being too militant, that it dawned on me what was going on. This was 1986, and after that I have watched the Labour Party abandon towns like Doncaster, year after year after year and they are still doing it. So what do we do?
The article's right, New Labour hasn't disappeared; the Labour Party are paralysed from stopping any of the heartbreaking cuts in our area. We have lost thousands of public sector jobs, services and 14 libraries; all our public swimming baths have been taken over, prices have rocketed and youth unemployment is sky high. WE HAVE THE HIGHEST RATES OF DOMESTIC VIOLENCE -18 PHONE CALLS TO THE POLICE EVERY DAY – ON AVERAGE A WOMAN IS HIT 35 TIMES BEFORE SHE REPORTS IT. We have the highest child abuse cases for all of Yorkshire and alcoholism. And this situation can only worsen with how deep the cuts are coming.
Anyone who knows the activists in Donny, like Dot Gibson, Bob Crow and Tony Benn, know we are ordinary people, completely a part of the working class; we work, we lose jobs, our kids go to state schools that have all been taken over and turned in to academies. Our sixth form centres are offering less courses and young people regularly get their benefits cut. We struggle to pay bills, we worry about the future, we worry about our neighbours future. People's lives are changing for the worst on a daily basis. We have no option to do something. We have the right to do something. The Tories are leaving us no room to move, we have no choices, we are knackered.
I want to ask the person who wrote this article, what choice do you think we have? People like me, my family and friends.
Many of them are trade unionists, in UNISON. Many of them are thinking why do they pay their subs!!!! Does the Labour Party say anything to them, when their child's school is academised, NO, why because Labour is for academisation. Does Labour say anything to them when they go on strike for their pension. No, because Ed believes we should work longer!!! What do the unions do? Well, let's look at the NUT, the union that doesn't pay to Labour, but you would think they did! No action when teachers vote for it??? Why do you think that is, waiting for a Labour government, I'd bet my life on it.
In Doncaster we have started to rebuild the left, it has been extremely successful. Many people are involved from many organisations, interestingly the only people who have a problem with decisions made by the broad left are the few who are in the Labour Party.
When push comes to shove, membership of the party and allegiance to it overrides anti-cuts work and moves them to the right, often acting in a sectarian and bullying manner; we see this in unions all the time, if you're not in the Labour Party you won't get on, your campaign to save a library will be scuppered, you'll be forced out of a union position. We all know it's true and it's crippling the movement and fight back in towns like Doncaster.
What people have gone through has been a complete eye opener in our town, we are totally alienated from the Labour Party. Why do you think we got the first English democrat mayor? Labour has only scraped in this time due to the Tories, it's not because of their policies.
I'll make a deal with you, you come back to me or us by the next election. Let's see what a Labour mayor and majority Labour cabinet had done for us in Donny. Will one library be re-opened? Will our baths be publicly controlled again? If Labour puts up a fight in our town and around the country, I'll think of leaving Left Unity.