Left Unity welcomes the decision of the Spanish people to reject the politics of Fascism and the past and to support the election of a progressive government. While regretting the loss of some seats by our sister party Unidas Podemos we salute their return to the Spanish Parliament and hope that they will form part of a new progressive, anti-fascist and anti-austerity government.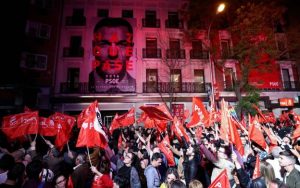 The appearance of the Fascists in the Spanish Parliament for the first time since the death of Franco is deplorable and is a grim warning of the creeping advance of Fascism across our continent which must be resisted. But their numbers are far less than the media, including the UK media, predicted and the increase in turnout was clearly a response by the Spanish people to stop them in their tracks!
This also suggests that Spain will be electing more Left MEPs next month to the European Parliament. But the warning note has been sounded that Fascism is on the march and Left Unity with our sister parties in the European Left will continue to fight it!
No Pasaran!