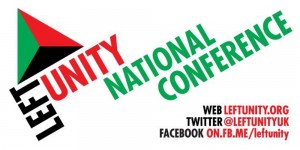 Left Unity's 2016 National Conference recommits 'to the radical socialist principles of our party'
Left Unity's annual national conference convened in Liverpool on 29th and 30th October for a weekend of intense and good-humoured debate and policy making to meet the key challenges facing the working class today. Delegates voted overwhelmingly 'to recommit to the radical socialist principles of our party, to fighting for and popularising our vision and policies, and to working with others in Britain and across Europe and beyond to contribute to the struggle for a just, democratic and equal society.'
National Secretary Kate Hudson welcomed Waltraud Fritz-Klackl and Pedro Marset from the European Left Party, who congratulated Left Unity on joining the ELP, speaking powerfully about the challenges faced by the working class across Europe – of austerity, racism and the rise of the far right – and the developing strategy of the radical left for fighting back and building a social, economic and political alternative.
Debating the post-Brexit political situation, Conference recognised that since the referendum there has been a sharp move to the right in British politics with a dramatic rise in racist and xenophobic attacks. Conference reiterated the party's strong position in favour of free movement and against immigration controls, organising to defend migrants' rights and working in solidarity across Europe and beyond. Working with others to build a broad based campaign to defend free movement is one of the central planks of Left Unity's work in the coming months.
Conference also debated the question of Scottish independence. Having previously not taken a position either for or against, delegates now voted to support the campaign for Scottish independence, agreeing to make links with progressive and socialist forces within Scotland.
Delegates also agreed to prioritise campaigning to save the NHS, to oppose the imposition of 'Sustainability and Transformation Plans' (STPs) locally and nationally, and to set up a policy working group to look at the crisis within social care and independent living and to explore our vision of what a radically redesigned social support system would be.
Many other policy areas were debated, from trade unions to the environment, to boundary changes, to NATO and much more.
Here is a full account of conference motions, amendments and outcomes from Saturday 29
---
You can also see here links to reports from the workshops held on Sunday 30, and 'austerity catering' recipes
Report from the Immigration and International Workshop