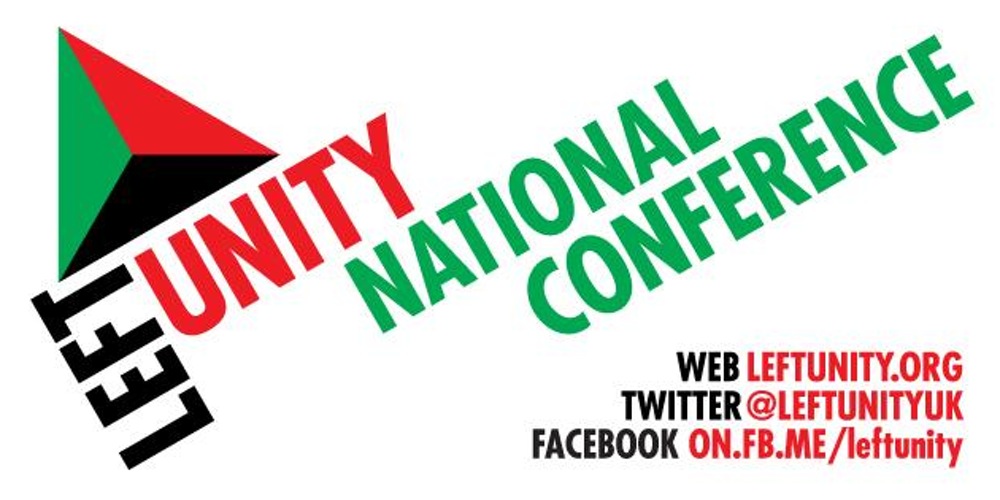 Left Unity's annual national conference will take place in Liverpool on Saturday 29th June, from 11am to 6pm.
At its recent meeting, Left Unity National Council agreed to invite motions on the following priority areas:
The rise of the far-right and international solidarity
Austerity and economy
Environment and peace
Women's rights and Disability resistance
Motions are also welcomed on other subjects. The following timetable sets out the deadlines for submissions to conference debate. All members may attend the conference and observers are welcome. Registration will open shortly.
6 April:   Pre-conference discussion period opens
18 May:  Deadline for motions
25 May:  Circulation of motions
8 June:   Deadline for amendments to motions; Deadline for composites
22 June: Motions and conference timetable published on website
29 June: Conference in Liverpool
Please submit all motions and amendments to standingorders@leftunity.org
Conference fees: Full rate: £10; unwaged £3; solidarity £25.
A hardship fund will be available in the normal way. Please enquire to info@leftunity.org
Accommodation: please enquire to info@leftunity.org for homestay.
Creche: please enquire to info@leftunity.org
A pooled fare will be operated.
Access: the venue is wheelchair accessible and a hearing loop is available; please contact info@leftunity.org to let us know if this is required, or for any other requirements.
To submit an article for the 'Discussion & Debate' section of our website please email it to info@leftunity.org