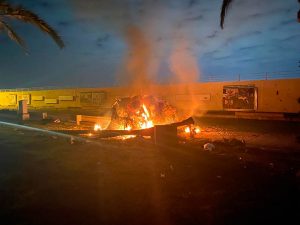 Left Unity condemns the US killing of Iranian general Qasem Soleimani and six others in a drone strike in Iraq. This was an act of state terrorism – extra-judicial killings that are illegal under international law. The US acted as a rogue state.
These political assassinations are further destabilising the region, creating the conditions for a much wider conflict, and must be condemned by the entire international community.
The Middle East has been a war zone since the US/UK-led war on Iraq in 2003 – a war for oil and strategic regional control – justified by lies and trumped-up charges. Millions have died and been displaced and untold suffering has been caused.
It's time for centuries of western imperialism and intervention in the region to end.