A leaflet you can print yourself, putting forward Left Unity's position on the need to cancel Greece's debts, respect Greek democracy and end austerity now.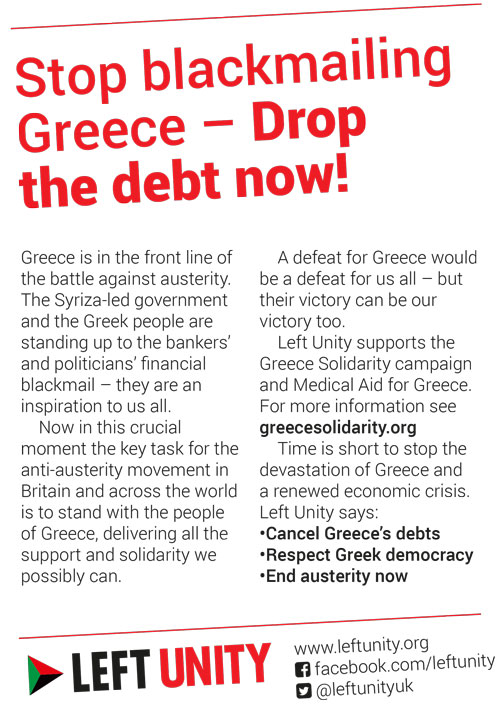 The text of the leaflet reads:
Greece is in the front line of the battle against austerity. The Syriza-led government and the Greek people are standing up to the bankers' and politicians' financial blackmail – they are an inspiration to us all.
Now in this crucial moment the key task for the anti-austerity movement in Britain and across the world is to stand with the people of Greece, delivering all the support and solidarity we possibly can.
A defeat for Greece would be a defeat for us all – but their victory can be our victory too.
Left Unity supports the Greece Solidarity campaign and Medical Aid for Greece. For more information see greecesolidarity.org
Time is short to stop the devastation of Greece and a renewed economic crisis. Left Unity says:
•Cancel Greece's debts
•Respect Greek democracy
•End austerity now
The leaflet is A5 size, single sided. The PDF has two on an A4 sheet – it is intended for home printing. Click to download as PDF.