Lambeth library occupied to prevent closure
Stuart King reports from the occupation of the Carnegie Library in Lambeth which faced imminent closure by the local council.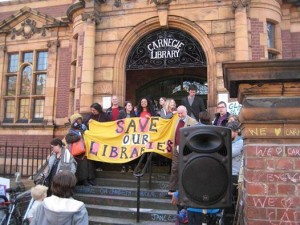 Lambeth council had planned to lock the doors of Carnegie Library to the public at 6.00.pm on Thursday night. Instead library users refused to leave and vowed to keep the library in the hands of the community.
A spokesperson for the stay-in protestors said "This is not Lambeth Council's library to close after 110 years, it belongs to the locality. We are staying here to publicise just what Lambeth's Labour council is doing to our local libraries – ripping the heart out of them to turn them into unwanted gyms."
Protestors have already festooned the Carnegie library with posters and banners showing the community will resist shutting our library. The aim is to turn the user controlled Carnegie library into a beacon of resistance to library cuts and closures across Lambeth and the country.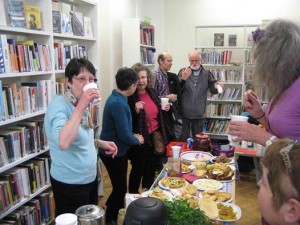 With the front doors d-locked and the side door under control of library users the Carnegie Library stay-in got off to a flying start with about 150 plus people staying put, refusing to recognise Lambeth councils closure of the library.
Press releases went out and London media started arriving in droves with the Evening Standard arriving at midnight. A mixture of song and speeches kept people happy inside, food arrived from sympathetic local businesses and users. Outside the candle lit vigil and "Beep if you support" crowd got universal acclaim for passing cars and public. Police turned up and were turned away in a civilised manner after being informed this was a civil matter.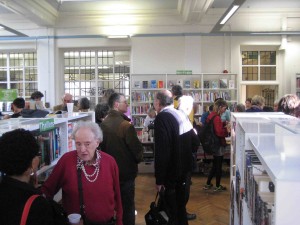 Occupiers are determined to stay in making the point that Lambeth Labour council, led by the right-wing Progress group, are not going to be allowed to give away our libraries as gyms. Come down and join us – Carnegie Library 188 Herne Hill Road, SE24.
---
1 comment
Left Unity is active in movements and campaigns across the left, working to create an alternative to the main political parties.
About Left Unity Read our manifesto
ACTIVIST CALENDAR
Events and protests from around the movement, and local Left Unity meetings.
Sat 25 Feb, 10.30
Health Conference, NHS in Crisis – How do we sustain its future?
Organised by SERTUC at TUC Congress House, London, 10.30 – 16.00. Open invite. Free admission and free lunch provided. Registration essential: sertuc@tuc.org.uk 020 7467 1220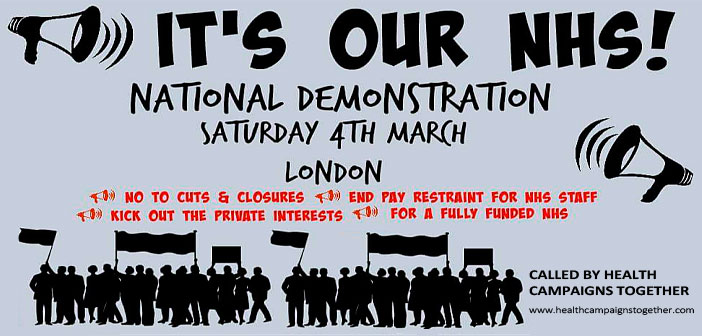 Sat 4 March, 12.00
It's our NHS, national demonstration
Theresa May's demands for yet more austerity in the NHS represent a real risk to the safety of patients and the service. Join this vital demo called by Health Campaigns Together.
Mon 6 March, 19.30
West London Left Unity, branch meeting
A discussion on Scotland, Wales, N.Ireland, England and Brexit. Introduced by Jim Grealy and Tony Ward.
At the Everybody Active Centre, Acton High Street, W3 6NE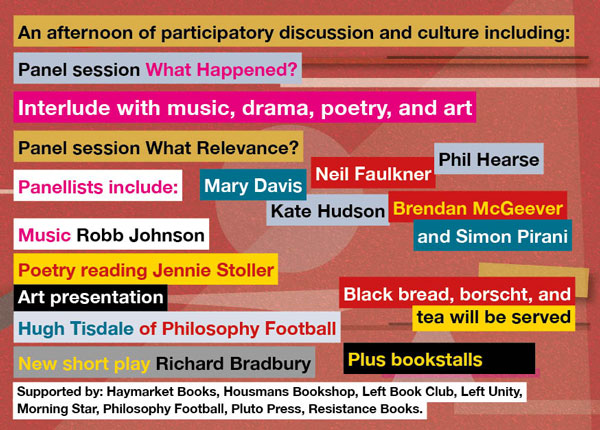 Sun 12 March, 13.30
Russian Revolution Centenary Celebration
1917-2017. Sponsored by Left Unity, at Karibu Centre, 7 Gresham Road, Brixton, London SW9 7PH.
17-24 June
Stop Donald Trump's state visit to Britain
Oppose Trump's visit. He is a racist and a misogynist and a supporter of torture and a preacher of hate. Event by Public Reading Rooms.
GET UPDATES
Sign up to the Left Unity email newsletter.
CAMPAIGNING MATERIALS
Get the latest Left Unity resources.