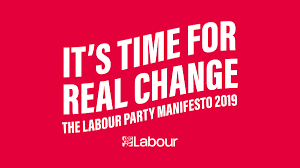 Labour's 2019 manifesto commitments on housing are a significant improvement on the 2017 manifesto, writes Doug Thorpe, but on an initial look, there are still some questions and areas for improvement.
In 1970 local councils built almost half of all new homes. The Right-to-Buy and local government finance restrictions introduced by the Thatcher government in the 1980s were a conscious, and largely successful, move by the Tories to get rid of council housing. Multiple levels of separation and deregulation of functions were enforced. Councils were forced to contract housing management to the lowest bidder.
The Blair New Labour Government elected in 1997 did little to stop this decline in Council housing in its 13 years in power. Not only was there no significant new council house building, but it did not stop the Right-to-Buy scheme, or remove the restrictions on council spending of receipts from the sales.
Austerity policies since the financial crash in 2008, and underfunding of local government, contributed to the cost cutting priorities of councils. But it runs deeper than this. Monetarism and the neoliberalism that underpins austerity have been the guiding economic orthodoxy of all recent UK governments. Since 1979 successive governments, have pursued policies of selling off council housing and privatising its management and refurbishment.
This reduction in the supply of social housing, along with the financialisation of the economy and declining interest rates, has led to speculation in private housing as an investment, rather than for use as homes. House prices have rocketed, placing home ownership out of reach to those without access to substantial amounts of capital and higher incomes. Private renting has overtaken social renting in numbers of tenancies, and private rents have spiralled to levels unaffordable for many without sharing (and often overcrowding and poor conditions). Homelessness is rising dramatically.
Labour's 2017 manifesto pledges went some way towards addressing these problems. It promised a major programme of social housebuilding, but failed to say how many would be new Council homes (as opposed to 'affordable'/social housing). The new manifesto has clarified this and promises to be building 100,000 Council homes as well as a further 50,000 other social housing properties. Left Unity thinks, we need a massive programme of public housebuilding and refurbishment of existing social housing stock, creating 250,000 new public homes per year, but the 2019 Labour pledge is a significant start, and the clarity that most of these should be Council houses is an essential improvement on previous pledges.
It is still not clear how much central government grant will be provided. Labour spokespeople have said funding would be £15 billion per year, but Inside Housing magazine has been told that this includes amounts Councils would be expected to borrow. Building 100,000 Council houses a year cannot rely only on what local councils can borrow, or decide to build. It will need planning with clear targets and an injection of government grant funding in excess of £10 billion a year. It would be helpful if Labour could clarify how much extra government funding will be provided to Councils, as well as what they can afford to borrow.
Labour will tackle the climate crisis and cut energy bills by introducing a tough, new zero-carbon homes standard for all new homes, and upgrading millions of existing homes to make them more energy efficient. This is essential as a part of tackling the climate emergency.
Right-to-Buy will be ended. This is much better than the 2017 promise to suspend it, and will make it much more difficult for any future government to reintroduce the sell-off of public housing.
Labour will set up a new English Sovereign Land Trust, with powers to buy land more cheaply for low-cost housing. Developers will face new 'use it or lose it' taxes on stalled housing developments. They will make ownership of land more transparent. These are all welcome provisions. We would go further and say that all land use should be subject to planning controls for the benefit of the common good.
To deal with homelessness Labour says it will bring in a new national levy on second homes used as holiday homes, so that those who have done well from the housing market pay a bit more to help those with no home. In addition we call for all unused land, long term empty properties, and substandard private rental housing to be brought into public ownership.
The wastage and profiteering created through deregulation and contracting out of public services, including housing management, need to be reversed and brought under democratic public control. The manifesto is silent on this.
Commentators have questioned who will build the new housing. Labour says new skilled workers will be trained through its education proposals. Left Unity says building work should not be left to private developers to profit from cost cutting, and exploitation of building workers. A public building corporation should be established, with unionised workers.
For private tenants Labour promises to take urgent action to protect private renters through rent controls, open-ended tenancies, and new, binding minimum standards. It will stop runaway rents by capping them with inflation, and give cities powers to cap rents further. We call for the control not to be restricted to capping rent increases, but also control what rents can be charged in the first place.
Labour says renters will be given new open-ended tenancies to stop unfair, 'no fault' evictions. It promises to make sure every property is up to scratch with new minimum standards, enforced through nationwide licensing and tougher sanctions for landlords who flout the rules. It will fund new renters' unions in every part of the country – to allow renters to organise and defend their rights. And, it pledges to get rid of the discriminatory rules that require landlords to check people's immigration status or that allow them to exclude people on housing benefit.
The 2019 Labour manifesto housing commitments are far reaching and go a long way to addressing the housing crisis, and are a step increase on the proposals in the 2017 manifesto. They are a credit to the work of all the housing activists inside and outside the Labour Party who have raised the profile of housing as an issue in recent years. There can be no doubt now that for anyone concerned about the provision of decent, genuinely affordable housing in this country that the only option in this election is to vote Labour.