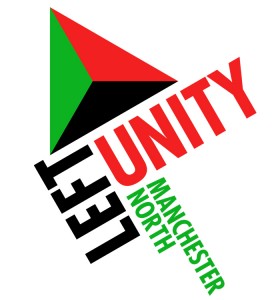 Julian Cohen, the new Manchester North Left Unity organiser explains why he is joining up
I am getting involved in Left Unity because I really believed the Labour anthem "things will only get better". (and it didn't) Well they certainly couldn't get any worse after the Tories left power leaving a deeply divided country, very little effective manufacturing industries and venomous ideological pursuit of privatising everything. So decimated mining communities were left to the scourge of heroin dealers who joined in the get rich quick frenzy and dog eat dog culture. No response to help and support those who suffered in the changing landscape.
In the early eighties I was studying for my History degree at Manchester Polytechnic and I was interested in politics but never felt a strong desire to get involved except at spectator level. I always identified with left of centre issues and admired Tony Benn and Michael Foot with their fabulous fire and brimstone oratory style and their strong passions to support the working classes and the disadvantaged. The response by other left wing parties appeared to fragment the support for the left and in some ways they were responsible for the demise of the labour movement. Continual arguments and splits fought out in the public eye and a loss of the intellectual arguments were a cause of constant disappointment as The Tories won election after election. Despite this I had had free education, a health service that was excellent and free at point of contact. There were some odious things creeping into the political system. High unemployment, the dreaded poll tax, decimating manufacturing industry, eropsion of a decent legal framework for workers, broken communities, the selling off of our council houses, selling off of school playing fields, privatising everything that was possible as an idealogical weapon to brow beat public workers, the crepping in of competition/privatisation in the health service and treating the working classes with total contempt (remember Norman Tebbits getting on a bike to look for work comment).
I had great hopes for Labour. Well as those fabulous socailists Tony and Cherie ran offf into the sunset with Loadsa money made from the after dinner party circuit I began to question what Labour had done or even what they had stood for. I felt conned. I liked his banning of Fox hunting but then I realised that wasn't even an effective act. Labour had done very little to get unemployment to an acceptable level. Is there a purpose for this? A couple of wars when we apparently have no money?
Even John Prescott seemed to have been tainted by the role of public office, parliament and its institutions. NHS driven by targets and key performance indiactors and more increasing role of private companies creeping in.
Move forward and a coalition just after Gordon brown had upset one of his working class supporters (or was he set up by a controlling and corrupt media). ITS GOT WORSE. More ideological attacks on publics services. Here we go again – more privatisation. Even though it is private companies that have bought us the the brink of economic chaos. More attacks on the disadvantaged. Lets add the disabled and sick to the working class. The politicians and bankers have lied and they have been deceitful yet they are still in power. The institututions are corrupt and they are failing.
I am ambitious to see a new type of party. A party like Left Unity that looks to be polished and slick and able to clean up and win all the intellectual and moral arguments to have full employement, nationalised industries working for the good of the nation and a party which represents all parts of its communities. The United kingdom works best when we all pull together. The people of this county are it's assets. Young, older, disabled, all races, creeds and nationalities – everyone. The days of divide and rule must be ended. I am in it to focus and see real change. Lets not be split.
When i was at polytechnic at freshers week all those years ago I was put off by the infighting of those splinter group left wing parties. It let in the Tories. Instead I joined the anti fox hunt group. i may have saved a few foxes but now i want to help save this great nation from failed Tory, failed Labour and failed whatever you want to call them neo liberal fakeries!!!