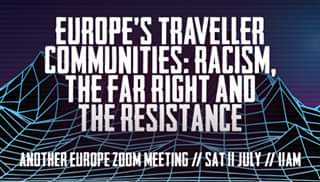 Another Europe is Possible zoom meeting: Across Europe, Gypsy Romany Traveller (GRT) communities face oppression and racism on a scale that is rarely acknowledged or discussed. They are the most discriminated against minority in Europe. In the UK, anti-gypsyism remains pervasive and is rarely challenged, even among those who would otherwise regard themselves as liberal and open-minded. The Conservative Party manifesto in 2020 included clear measures aimed at criminalising traveller encampments. 
Across wider Europe GRT communities face everything from mass incarceration, to systematic discrimination, to repression of their culture, to deadly, violent mobs. Despite some progress at EU level Member States are slow, and in some cases reluctant, to implement recommendations from the institutions. Scapegoating of GRT goes hand in hand with anti-migrant rhetoric.
For Roma, Sinti, Irish Traveller and other communities, this experience is not new. It is part of a long history, for which Europe has never truly accounted. Hundreds of thousands of Roma and Sinti died in the Nazi extermination camps.
On Saturday 11th July, we'll be joined for a Zoom meeting by a fantastic array of speakers to discuss the situation. What are the latest developments, how does the persecution relate to the rise of the new far right, and, perhaps most importantly what are communities doing to defend themselves, and what can we do to help?
Speakers this week include:
Rosamaria Cisneros, Roma Women's Congress
Julie Ward, former MEP and advocate for Roma rights
Ben Smoke, Huck editor
Ramona Constantin, researcher and support worker at MigRom
*** This is an event for Another Europe members. Join to get your ticket: anothereurope.org/join ***