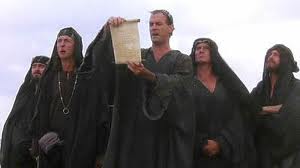 In the interests of comradeship Edd Mustill @ejmustill examines a few concepts that should be banned in discussions between left-wing activists. Edd invites you to add your own suggestions in the comments box below.
"People are very angry"
People get up in meetings and say this all the time, before going on to explain how the conversation they had with someone on a bus inviolably proves whatever perspective they're trying to shoehorn into their speech. Let's not endow anger with some innate political context. I get angry when I can't open a tin of tomatoes, but it doesn't make me want to go and set fire to the Treasury.
"Icepick"/"Kronstadt"
We've all heard anarchists talking about getting the icepick out, and Trots talking about "doing a Kronstadt." I'm as much a fan of fatal inter-revolutionary conflict as the next comrade, but can we at least give these tragic historical events the respect they deserve, and not bring them up because your mate's anarchist mate has taken your seat in the pub?
"People's Front of Judea"
It was funny in the film. It hasn't been funny since.
"There already is a social democratic/radical/revolutionary party, and it's Labour/The Greens/The RSDLP" [delete as appropriate]
Stop trying to get everyone to disband and join your party. It's not going to happen. There's a reason why people aren't in your party, and it's probably because they don't agree with its political programme. You're not going to change that by banging on about how you're the only game in town.
"There already is an anti-cuts campaign, and it's Unite the Resistance/Coalition of Resistance/the National Shop Stewards Network/The People's Charter" [delete as appropriate]
See above. Incidentally, the National Shop Stewards' Network isn't a shop stewards' network. If only.
"Why can't we focus on attacking our real enemy, the Tories"
When used by people who don't want to, or can't be bothered to, debate something. The worst expression of this is people who say "I would respond to this criticism, but I'm off to a union meeting," or "I've not got time for this, I've got a bedroom tax meeting to go to – I haven't seen YOU there by the way." A century of working-class intellectuals turn in their graves every time someone does this. There's no such thing as being too busy to think.
"Wreckers"
When used to describe anyone whose industrial strategy is different to yours. Sure, the deliberate wrecking of meetings happens in the movement. We've all seen it. But not many people actually want to wreck the unions. Someone mildly criticising your favourite left-wing general secretary doesn't make them an unforgivable traitor to the cause of This Great Movement of Ours. And while we're at it…
"Bureaucracy/Rank-and-file"
Please, please, please, have a coherent analysis of the unions before you use these terms. They're important, they're not just insults and buzzwords to throw around when it's convenient.
"Marxists think X"
When used to mean "My group thinks X." Saying "Marxists think capitalism should be overthrown" is fine. Saying, for example, "Marxists think the USSR was state capitalist" is disingenuous, and does a disservice to the rich and varied traditions of Marxist thought.
Spurious historical comparisons
"The Bedroom Tax is the new Poll Tax." No it's not. It's completely different to the Poll Tax. Some of the tactics used by the anti-Poll Tax movement are relevant, some aren't. Let's talk about it properly.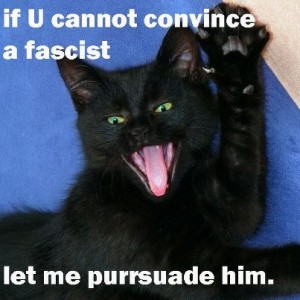 Socialist Meme Caucus
If you're familiar with this, you'll know why. If you're not familiar with this, count yourself lucky.