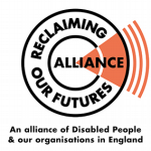 Statement from Reclaiming Our Futures Alliance (ROFA), a national network of organisations run and controlled by disabled people in England.
Reclaiming Our Futures Alliance (ROFA) is calling on the Government step up its response to meet its responsibilities to Disabled people in the current COVID-19 pandemic. ROFA believes that the actions of the government have led to growing fear and anxiety among Disabled people of all ages and backgrounds. This situation has been made significantly worse for Disabled people by a decade of Government induced austerity, creating an ongoing social care crisis, the reduction and privatisation of public services, increasing use of segregated schools and institutions, and the disregard successive governments have shown for Disabled people's representative bodies.
Disabled people, who as a result of pre-existing medical conditions or the ageing process, are seen as being most at risk during the current pandemic need urgent action to safeguard their lives. Community based support ought to have been a priority from the first day of recognition that a crisis situation was on its way but sadly it was not. We are also deeply concerned with the eugenicist rhetoric that has been used to suggest that Disabled people will have less access to medical treatment and equipment if they fall ill due to or during the pandemic.
ROFA steering group member Mark Harrison said:
"The Government need to put the needs of its citizens first and ensure that Disabled people are not discriminated against in the response to COVID-19. The Government chose to target Disabled people for the harshest treatment in its austerity programme. Now we are largely being ignored or suffering because of the sorry state of health and social care services after a decade of brutal cuts. Social care in particular is in crisis and this pandemic has left many Disabled people at risk. We are urging Ministers to engage with us to co-produce a comprehensive set of responses to safeguard our lives"
For more information and interviews contact: Mark Harrison 07979 400564