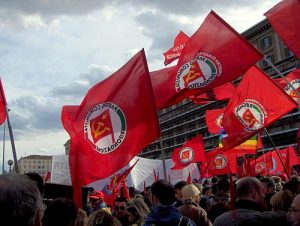 The proposals of Rifondazione Comunista
The emergence of the coronavirus has made evident the unsustainability of the neo-liberal social model based on the progressive reduction of welfare.
 We face this crisis with public health systems severely weakened by cuts and privatization processes and a society already marked by strong inequalities and economic decline.
The measures taken by the Italian government and the European Union to deal with the coronavirus pandemic are completely inadequate, both in terms of health and economically.
On the economic level, the choices made correspond to a tenth of what is necessary to implement. As reported by the appeal of Emiliano Brancaccio and other economists in the Financial Times, there is a need for an "antivirus" plan that puts capital markets under control.
Only to effectively deal with the emergency is it necessary for the European Union to take the following measures:
Firstly, the stability pact must be immediately suspended because, in a situation like this, the maintenance of measures to contain expenditure represents the opposite of what is needed both to face the pandemic and to face the economic crisis. At the same time, any discussion on the ESM, which represents an unnecessary and harmful way of intervening on the public budgets of the various European countries, must be canceled.

Secondly, the ECB must guarantee the transmission of monetary policies, namely that interest rates go to zero, thus stopping speculation on government bonds. To this end, the ECB purchases up to 60% of the government bonds of each European country in order to guarantee the zeroing of the spread.

Thirdly, the ECB must finance a European investment plan, capable of relaunching employment and guaranteeing the environmental and social conversion of production and the economy. 1000 billion annual zero-rate financings, with a maturity of 100 years to implement – perhaps through the EIB – an environmental conversion plan for production and the economy (including guarantees of social safety nets and income) and a European health plan that enhances public health by building a European right to prevention and health.
At the national level, it is necessary to block completely non-essential economic activities to reduce contagions and immediate requisition of private health structures to be able to face the peak of contagions when it arrives region by region.
Secondly, it is necessary to implement immediately an investment plan in line with what is required at the European level.
Thirdly, the ban on the sale of short securities must be structural and in a situation of strong speculation on the markets, it is necessary that the public authorities intervene to block the negotiations each time they manifest a speculative character and to implement a strong control of the movement of international capital.
Maurizio Acerbo, National Secretary of Communista Refoundation Party – European Left
Paolo Ferrero, vice-president of the European Left Party
ROMA 17-3-2020