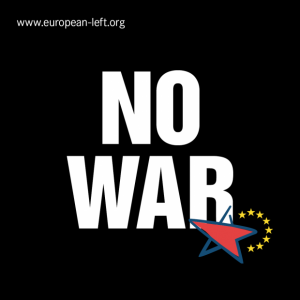 Left Unity joins the widespread condemnation of the air attacks on Syria.
Kate Hudson said:
"We strongly condemn these air strikes on Syria, which are in defiance of international law. They will only increase the likelihood of this terrible conflict spilling over into the wider Middle East and potentially beyond that.
"We also condemn Theresa May's decision to bypass parliament which demonstrates a contempt for the necessary democratic process. She has also disregarded public opinion in launching these strikes; polls indicate that only 22% of the population support this bombing campaign.
"Diplomatic and political solutions must be sought. The risk of nuclear escalation is significant and poses consequences too terrible to contemplate."
President of the European Left, Gregor Gysi, declared:
"The illegal international attack, which the US has launched together with France and the United Kingdom on individual targets in Syria must be ended immediately. The associated diplomatic inability leads to an escalation of violence and not to the resolution of the conflict. This attack is illegal under any consideration. There is no US right of self-defense, there is no right to a preemptive strike. An intervention without a mandate from the UN Security Council is clearly contrary to international law."