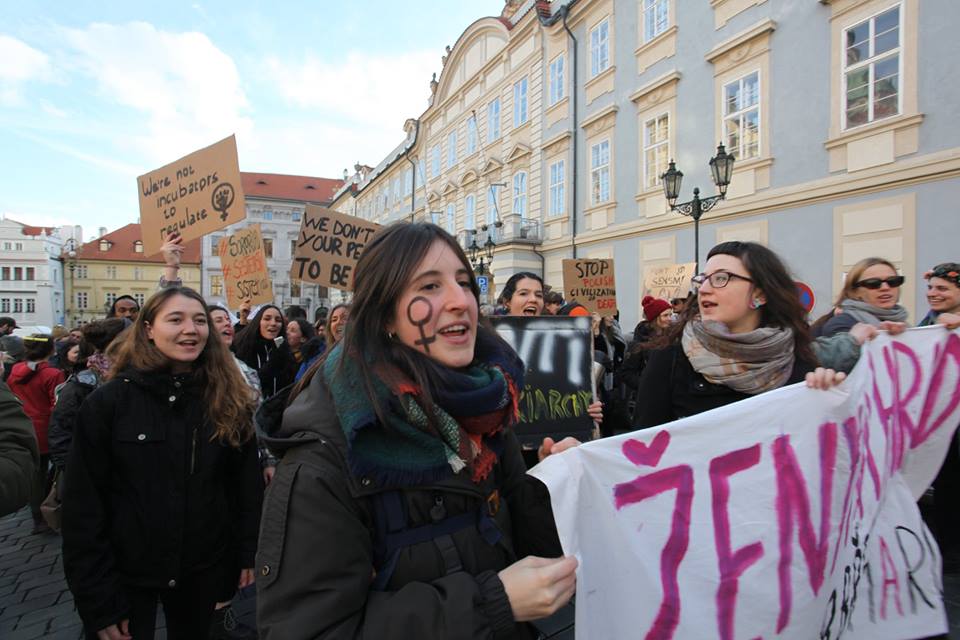 Diana Young reports from Prague International Women's Day was marked with a march through the Malostrana district up to the seat of the Czech presidency, Prague castle – Ženy na hrad! (Women to the Castle!).
The march and rally was organised by Koalice 8. brazna – the March the 8th Coalition, a formation of feminist, socialist and radical groups and activitsts – The Radical Christian Feminists (RFK), the Young Greens, Asamblea abierta de Praga, Socialist Solidarity (SocSol) and other individual activists from across Europe. The construction of the Coalition which links Czech and non-Czech activists is a positive development for the promotion of a socialist voice in Prague and the Czech Republic.
The march led by banners and band, as it wound its way through the picturesque streets familiar to many tourists, was estimated to be between 300 and 350. This obviously palls in comparison with the action in Spain but we must remember the Czech context where IWD trade union membership is woefully thin, where feminist and socialist voices are excluded from public life and where IWD is often marked with a gift of a flower from him to her.
The 8th of March was also the inauguration Miloš Zeman, who has built a vicious reputation as a Populist in the Trump model, and was a ready target of speeches and performances for his economic, migrant and environmental policies.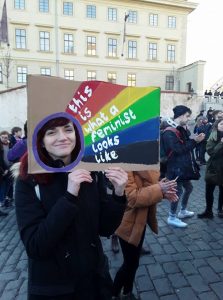 The rally before the gates of the castle enjoyed the funkiest of music, an eco-fem happening, a Feminist conceptual cumbia flash-mob (dance) and other performances together with speeches from Martina Veverkova (Soc Sol), Magdalena Sipkova (RFK), Isabel Cortez, Anna Gallego and Violeta Martin (Asamblea), and Diana Young (Left Unity/Coalition).
In total this was a very positive action put together by the 8th of March Coalition. It was the biggest IWD demonstration in Prague for many years, the feminist message was said aloud and we have planted a seed for the future.
Visit our facebook page here
If any Left Unity members or supporters are visiting Prague then please feel free to get in touch.