Broadsheet and Placard: Brexit and Trump, Sound the Alarm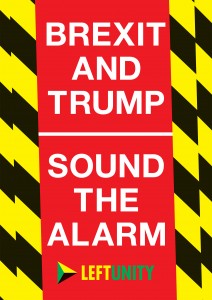 Broadsheet and placard highlighting the dangerous turn to the right in world politics.
Click to view broadsheet (PDF).
Order printed copies:
Materials are free, but we ask for a donation to cover postage (suggested donation is £2 for smaller orders and £4 for larger ones). Please email office@leftunity.org with your order and mailing address.
---
Left Unity is active in movements and campaigns across the left, working to create an alternative to the main political parties.
About Left Unity Read our manifesto
ACTIVIST CALENDAR
Events and protests from around the movement, and local Left Unity meetings.
Saturday 24 June
March for Homes
Join the movement preparing for this demo: private, council, housing association and co-op tenants, unions and housing campaigners
To get involved email info@axethehousingact.org.uk or call 07432 098440
Weds 19 – Sun 23 July
European Left Summer University
This year, the European Left/Transform Summer University will be held in Budapest, Hungary, from 19-23 of July. For programme details click here. For registration click here.
Sun 23 – Sat 29 July
International Youth Camp, Otranto, Italy
The Fourth International's annual youth camp – find out more about socialism, feminism and environmentalism.
For more information email contact@socialistresistance.org
GET UPDATES
Sign up to the Left Unity email newsletter.
CAMPAIGNING MATERIALS
Get the latest Left Unity resources.