Broadsheet and Placard: Brexit and Trump, Sound the Alarm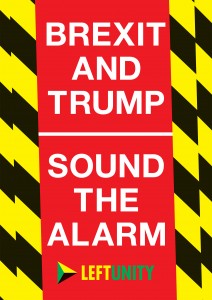 Broadsheet and placard highlighting the dangerous turn to the right in world politics.
Click to view broadsheet (PDF).
Order printed copies:
Materials are free, but we ask for a donation to cover postage (suggested donation is £2 for smaller orders and £4 for larger ones). Please email office@leftunity.org with your order and mailing address.
---
Left Unity is active in movements and campaigns across the left, working to create an alternative to the main political parties.
About Left Unity Read our manifesto
ACTIVIST CALENDAR
Events and protests from around the movement, and local Left Unity meetings.
20 January 2018
Conference: Turkey under the state of emergency
10am to 4pm at NUT, Hamilton House, Mabledon Place, London WC1H 9BD
Solidarity with the People of Turkey
Register here
26/27 February 2018
Mobilise against Trump's visit
Trump is expected to visit Britain at this time. Protests to be announced.
GET UPDATES
Sign up to the Left Unity email newsletter.
CAMPAIGNING MATERIALS
Get the latest Left Unity resources.