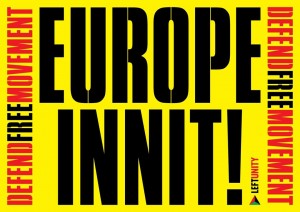 MPs have overwhelmingly agreed to let the government begin the UK's departure from the EU in their final vote on the Brexit bill. The draft legislation was approved by 494 votes to 122, and now moves to the Lords. Labour's shadow business secretary Clive Lewis quit the front bench rather than follow party orders to back the bill. Sadly Diane Abbott a principled campaigner on the issue of migration and free movement voted for the bill despite all Labour amendments having fallen and despite Theresa May having given no ground whatsoever. Even the amendment relating to the security of existing EU migrants was defeated. This was not a day to celebrate the steadfastness of the new leftwing Labour leadership. They have calculated wrongly that they needed to take this position in order to steady good ship Labour but they have left the party floundering on the rocks. The vote at the end of the negotiations is meaningless. The struggle against Brexit now moves to the streets.  May will now trigger formal Brexit talks by the end of March. Apart from Labour we have to draw attention to the organisations of the so-called revolutionary left. They called for Article 50 to be voted through under any circumstances wrongly believing that the referendum vote represents not a shift to the the right politically but an advance for the working class. They may still involve themselves in politics but few will take seriously their pretensions as revolutionaries.
Joseph Healy Left Unity Principal Speaker made this statement this evening
"As Captain May continues her voyage of the damned towards the economic and political iceberg that is Hard Brexit, Labour has thrown the life vests and lifeboats overboard! Yesterday they were outgunned by the Tories as parliament voted effectively to give more amending powers to the European Parliament on the final deal than the UK parliament will have. Today the rights of 3 million EU citizens/hostages living in the UK have been trampled underfoot. By ordering a three line whip to vote this appalling deal through, Corbyn has tied Labour to the mast of this doomed voyage whose only port of arrival will be a bargain basement Britain where workers and environmental rights will be destroyed under the Tories. Meanwhile Scotland and Northern Ireland have been locked in the hold, their representatives barely allowed to speak in the debate on Article 50.
The vital principle of Free Movement of labour is also being thrown overboard and Labour is prepared to stand by and accept this. Purely on the grounds of political expediency Labour is abandoning all the tenets of internationalism and solidarity with workers and migrants and allowing this country to continue on a voyage whose only outcome can be the hardest of Brexits.
Left Unity will continue to stand for Freedom of Movement and the retention of workers and environmental rights and will not abandon the many young people who voted against this outcome, along with the 3 million EU citizens who continue to be the victims of the mounting xenophobia and racism which can only be strengthened by this atrocious decision. Corbyn and Labour have made a major historic error in allowing this blank cheque for the Tories to go through and will be judged by history as the results of this decision become clearer."