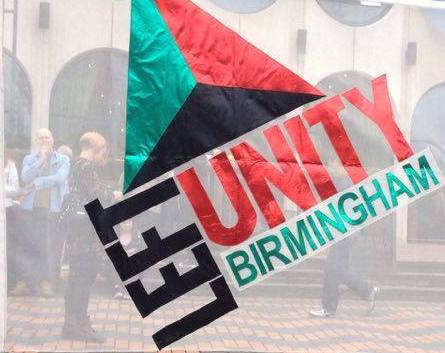 [Time to end the BLAAME culture]
Birmingham Left Unity is making a public call to all community, campaigning and political groups to come together to form a new initiative – BLAAME. The aim of BLAAME will be to publicly raise awareness of the social exclusion of various sections of the Birmingham population from events currently held in Birmingham City Centre because no suitable venues exist. Birmingham prides itself on being the second city with diverse communities and top of the range facilities. A website linked to the City boasts that:
'Whatever your level of mobility, you'll find Birmingham a welcoming destination with a high standard of accessibility, helpful people and clear signposting to the majority of attractions, shops and venues.'
Is this really the situation or are there issues not being addressed by this statement? In 2018 it is twenty-three years since the passing of the first Disability Discrimination Act and eight years from when the Equality Act placed a duty on public bodies to:
'…advance equality of opportunity between persons who share a relevant protected characteristic and persons who do not.'
It is acknowledged that both the Council and commercial bodies have taken to a certain degree steps to remove unnecessary barriers that prevent various sections of the community accessing services, shops and venues, however, there are still many no-go areas remaining. A major criticism raised by disabled people and many faith communities is the lack of accessible, affordable meeting places within the City centre itself that cater for all groups. We believe this undermines democracy in its widest sense. There are Halls and Community Centres outside the City Centre where meetings and social gatherings can take place, but there are often barriers to travelling to these non-central venues for disabled people and other groups.
Within the City Centre there are very few meeting places that have facilitates that are safe and accessible to disabled people; the majority of these would be unsuitable for members of specific community groups because they are located in public houses. Here is a specific example:
In recent years there has been an ongoing dispute between political campaigners and disabled activists who believe the Wellington pub fails, despite its efforts, to provide a safe, trouble free and reasonably accessible venue. Why is there a disagreement?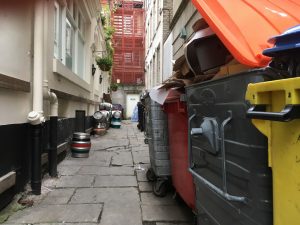 Disabled activists point out that the second floor is completely inaccessible to wheelchair users and a severe risk to those who have restricted mobility. Public meetings held here break the law because certain disabled people are denied the right to attend. Disabled people argue that public meetings held here create a form of apartheid. It is not disputed that the first floor can be accessed by wheelchair users and those who have restricted mobility, however, this is not without degrees of risk and difficulty for differing groups of disabled people. Wheelchair users are expected to use a rear entrance which is down a narrow alley with broken and part missing slabs which are uneven and potential tip or trip hazards for people with walking limitations. Visibility at night is highly questionable. The route requires navigating beer barrels and other obstacles including a heavy outward swinging fire door. Once inside disabled people are expected to negotiate between tables within narrow confines. The lift is accessed via a key pad out of reach of the majority of wheelchair users and also presents difficulty for those with limited balance and dexterity issues. The accessible toilet is located on the ground floor.
The meeting room does not accommodate wheelchair users satisfactorily and puts people at risk of injury due to its cramped layout. The majority of disabled people who have attended meetings there found it to be an unpleasant experience. There are disabled people who are prepared to accept these 'conditions' despite the risks involved, levels of unnecessary dependency and inconvenience, but a sizable percentage of disabled activists aren't. After consultation with the disabled activists, some but not all campaign and political groups, have stopped using the venue for advertised meetings.
Another prohibiting factor is the fact that many of these facilities are hired at commercial rates and therefore beyond the means of many small community or campaigning groups. Given this situation, and despite the passing of equality legislation, it is still a sad fact that many community groups, trade unions and campaign bodies are holding meetings and events in venues that exclude and therefore discriminate against potential participants. This situation has to stop; token gestures or the wringing of hands does not remove our responsibility to provide inclusive practices. Is it not the historical call of the labour movement that an injury to one is an injury to all? There is no easy solution available as an adequate City Centre venue does not currently exist.
Only by coming together to highlight the inequality of the situation; making visible one of the major barriers to grassroots participation, will we have any chance of changing the situation. This is an ideal time to initiate a project of this kind because the City is coming under scrutiny in terms of governance, participation and community cohesion. It is also an initiative that can be a small step in standing up against the decimating of services and provision; the drive towards privatisation and the increasing experience of social-economic deprivation felt by communities in Birmingham. Birmingham Left Unity is encouraging the trade union and Labour movements to take the lead role in getting this initiative started.