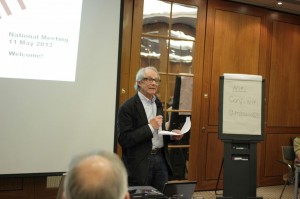 The welfare state is being dismantled by the coalition government, bringing great suffering to the most vulnerable in society and eroding the living conditions of millions of ordinary people. Worse still, the Labour Party is not presenting a strong opposition to austerity and instead appears to have wholeheartedly adopted neo-liberal policy, advocating its own brand of austerity and privatisation.
Ken Loach's The Spirit of '45 gives us a perspective on the achievements of the post-war generation, transforming the lives of ordinary people by bringing improved health, housing, education and social security to the people of Britain. We need to defend these achievements and continue the tradition of protecting the most vulnerable in society.
Support Ken Loach's appeal to discuss the formation of a new political party of the Left to bring together those who wish to defend the welfare state and present an economic alternative to austerity:
We will update you via email with any progress and developments in the discussion. If you have signed the appeal but have not signed up to the newsletter and would like to do so please request a link to change your subscription preferences.
If you would like to get involved in one of our local groups please check our groups page at leftunity.org/groups.