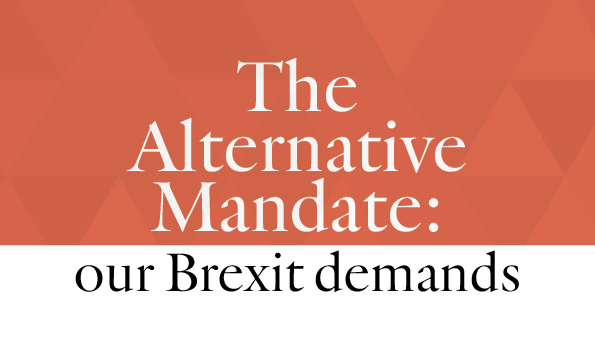 "The UK has left the EU. We passionately opposed this outcome, and we think it is a mistake – but there is no point pretending that it hasn't happened.
In the coming months and years, we will face an unprecedented assault on the rights and prosperity of ordinary people. In the hands of Boris Johnson, the economic crisis and the Brexit process will become tools to deregulate our economy and scrap human rights.
That is why we are launching The Alternative Mandate – a set of demands on the Brexit process, covering everything from migration and trade, to international cooperation on public health, to agriculture and the climate crisis.
As coronavirus disrupts the fabric of our society and we head into another massive economic crisis, we will seek to unite the left and progressives around an alternative to the vision put forward by the likes of Boris Johnson, Donald Trump, Victor Orban and Matteo Salvini.
To do this, we need to build a movement of resistance. We also need to get politicians on board with The Alternative Mandate – so we've set up a tool which you can use to send an email to your MP with a single click, urging them to add their support.
Achieving these goals, whether over the next five years or over the next fifty, will require a mass movement that is pluralistic, and which stretches across Europe and collaborates across parties and well beyond national and continental frontiers.
We know that building this movement and winning these demands will not be easy. But together, we can do it.
Team Another Europe"