Postcard: We can't feed the poor, but we can fund a war?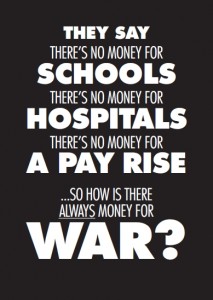 This A6 postcard presents Left Unity's position on military intervention in Iraq and Syria, questioning the logic of imposing austerity whilst funding war.
Order printed copies:
Materials are free, but we ask for a donation to cover postage (suggested donation is £2 for smaller orders and £4 for larger ones). Please email office@leftunity.org with your order and mailing address.
---
1 comment
Left Unity is active in movements and campaigns across the left, working to create an alternative to the main political parties.
About Left Unity Read our manifesto
ACTIVIST CALENDAR
Events and protests from around the movement, and local Left Unity meetings.
Saturday 25th November
Trump: Nuclear Apocalypse or New Cold War?
Leeds Swarthmore Centre at 2pm with Kate Hudson, General Secretary, CND. The threat of nuclear war is at its highest level since the Cold War. What can socialists do to stop it? facebook here
Saturday 25th November
Discussing Catalan self-determination
South London Left Unity discussion, also talking about the future of the left outside the Labour Party: 1- 4pm, Camberwell Library, Camberwell Green London SE5 7AL. All welcome.
Saturday 2 December
Latin America Conference 2017
TUC Congress House London at 9.15am: With countries across Latin America facing a resurgent right and the threat of intervention from Trump, this year's Latin America Conference will be the most crucial yet. More info here
GET UPDATES
Sign up to the Left Unity email newsletter.
CAMPAIGNING MATERIALS
Get the latest Left Unity resources.