Andrew Burgin writes.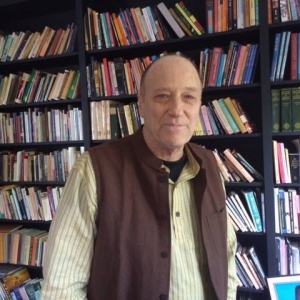 We all knew Mike was ill. We all knew that he had cancer. He wrote about it in great detail and with great intelligence. We knew that he received incredible treatment through the NHS. Indeed he regaled friends in other parts of the world with the treatment he had received through our national health service. They were astonished to learn, he said, that this extensive treatment was provided entirely free. This was the right of us all, he said – to be cared for in this way. And he wrote a book about living with cancer. His death was expected.
But his death is no less shocking. It stuns us because we somehow recognise the importance of the man and his work particularly when he is no longer there. It hits us at once, that terrible loss.
Through social media that loss is made immediate. We know instantaneously the thoughts of others. This is Priyamvada Gopal on Facebook – I know her only through this medium but her thoughts are ours:
'Today the British left – and beyond – have lost a deeply wonderful comrade, ally, thinker and writer, a person of rare integrity and decency apart from everything else that made him a great human being. We are bereft and there is really no consolation, false or otherwise, for this gargantuan loss. Mike Marqusee, all we can do is keep that righteous anger alive, my friend: so proud I can call you that. You were never for yourself alone: rest in justice.'
We knew Mike through his books of course. Mike's many books included his much praised volumes on the politics of Bob Dylan, Chimes of Freedom, which in 2006 he revised and expanded in Wicked Messenger: Bob Dylan and the 1960s. Though exasperated by the twists and turns of Dylan's career, Mike remained an admirer, as is clear from his article for the Guardian in February 2014, Fifty years of Bob Dylan's stark challenge to liberal complacency.
Also widely admired was Mike's award-winning book Redemption Song: Muhammad Ali and the Spirit of the Sixties, which restored the political context of Ali's sporting career, and of which John Pilger said, 'A thrilling book about a true and enduring hero.'
Mike was also a great fan of cricket and author of several books on the subject. He brought to his subject a sharp anti-imperialist perspective rarely seen in cricket writing since the departure of John Arlott. I'm a book dealer by trade and through that nefarious occupation I bought the manuscripts that CLR James wrote for his book on cricket, Beyond a Boundary. I remember taking those manuscripts to Mike for him to examine for authenticity. I glowed with pleasure when Mike gave them the all clear.
It was through politics that we really chimed. He was the first press officer for the Stop the War Coalition and I was his understudy. I remember him doing the first television interview for STW. It was Newsnight if I remember correctly. He was very cool. The cameras came to our offices just off Brick Lane and he sat on the edge of the desk and explained very clearly the wrongness of the war on terror and the nightmare that would follow. The interview was prophetic. Everything he said in 2001 subsequently came true.
He understood the importance of that movement. He explained to me why at that moment building the anti-war movement took precedence over all other political work. I followed him in that.
We were comrades in the Socialist Alliance and although that project came to an end, like all the on the left we never stopped hoping and trying. When Ken Loach issued his appeal for a new party of the left Mike was one of the first to respond – as he was with many other political initiatives. He had that generosity of spirit that allows the movement to continue and sometimes to flourish. He was one of those people who want the movement to succeed and for that success to be for the movement as a whole – not just their particular part of it. That was key to his support for Left Unity.
Mike wrote several pieces for Left Unity. Here is a link to one of them, 'A party to dream of', which shares his vision of our new party. He was always more than encouraging. If we were organising a big event we would know we had his support even though he was often too unwell to attend in person.
Tony Benn said that all he wanted people to say about him was that 'he encouraged us'. Well Mike certainly did that. He encouraged us and he has left us determined to try and fulfil our shared project: to create an organisation that can overcome austerity, racism, war and environmental degradation.
So farewell to you Mike, you 'deracinated New York Marxist Jew'. We will miss you terribly. We will fight for the things you cared for. La Lutte Continue. Our thoughts are with his partner Liz and his family and friends.