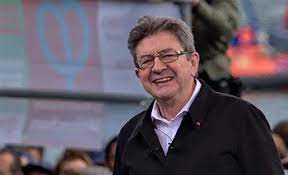 Ken King writes: The main parties of the Left in France have united around a coalition of candidates in the upcoming parliamentary elections for the National Assembly on 12th and 16th June respectively. This is an historic achievement in respect of the challenge of the far right.
In light of the recent presidential election, that was won by Emmanuel Macron over his extreme-right rival Marine Le Pen, it undoubtedly brought the fragmented elements of the French Left together, to form the New Ecological Social People's Union (NUPES), which is reminiscent of the Popular Front of the 1930s (although in albeit different circumstances).
NUPES is dominated by Jean-Luc Melenchon, who set the pace due to his much larger vote in the recent presidential elections, and who in most cases is calling 'the shots.' The once-dominant Socialist Party has seen their vote crumble in recent years. One of the senior 'statesmen' of the SP, former president François Hollande, said he opposes the coalition and will consider resigning from the party if it goes ahead. Melenchon's reply was to describe Hollande as a "Total has-been."
The negotiations between the parties produced a common slate of left-wing candidates around a broad agreed electoral programme. NUPES consists of Melenchon's France Unbowed (democratic socialism), Ecologist Pole (green politics), Socialist Party and allies (social democracy), French Communist Party (PCF), Generation. S (eco/democratic socialism), The Left Party and a host of smaller parties and allies.
The main common electoral positions of NUPES are;
An increase in the minimum wage to 1,500 Euros per month.

Return to the retirement age to 60.

Freezing of the prices of basic necessities.

A common ecological policy.

The establishment of a Sixth Republic (France is currently in its fifth).

Despite the huge differences towards the European Union within the parties – a common goal of 'changing the EU from within' was agreed.
The ultimate goal of NUPES is to impose "Cohabitation government" on the system; whereby the President (Macron) is forced to choose a Prime Minister (in this case, Melenchon) from the winning parliamentary deputies (MPs).
The leading communist candidate is Fabien Roussel, the PCF National Secretary, who himself comes from a family of communist militants. He announced from the platform at the May 7th Convention of NUPES, held at Aubervilliers that, 'It was now possible, thanks to the Popular Union, to beat Emmanuel Macron in the National Assembly, and that it was a question of immense hope for all employees, retirees, families and young people.'
The French economist, Thomas Piketty, is certainly optimistic, claiming that the united Left Coalition has put 'social and fiscal justice' back on the political agenda.'
No longer divided, the main parties of the French Left now have an opportunity to win the parliamentary elections, and/or have a decisive impact on French politics. With something like 30% or more of the combined vote before the last election – we await with eager anticipation to see what transpires next.