"Cometh the hour – cometh the Ecosocialist Alliance!!"
Since the beginning of this year, there has been overwhelming evidence of increasing global heating, with its attendant extreme weather events, climate chaos and ecological destruction. Whilst, as ever, it is the people of the Global South who have suffered most from the worst of these Climate Emergency impacts, the Global North – including Europe – has experienced an unprecedented summer of 'record-breaking' floods, heatwaves and wildfires. 
It is against this background of approaching catastrophic Climate Breakdown that COP26 will soon be taking place in Glasgow. As even David Attenborough has warned, we are now facing the prospect of social, economic and civilisational collapse and even extinction, via an increasingly-dangerous set of multiple, interlinked and inseparable crises: of Climate Breakdown, ecological collapse, and zoonotic diseases. However, although the situation is undoubtedly dire, there is still a chance to finally rectify this situation – if serious climate action is taken between now and 2030.
'Blah! Blah! Blah!!'
One person who, several years ago, grasped the seriousness of the situation we face is the Swedish climate activist, Greta Thunberg. While Johnson clearly STILL 'doesn't get it', she realises that the Climate Emergency can no longer be ignored, or simply paid lip-service to – and she understands that, because the much-vaunted 'techno fixes' do not exist, if real action isn't taken now, then the record high temperatures, wildfires, droughts, floods and hurricanes we're currently experiencing are merely harbingers of even worse to come.
Thus the 'pledges' and 'promises' previous COP Conferences have made will not do – as she made clear in her recent speech at the Youth4Climate conference in Milan, where she mocked the words and empty promises of world leaders on climate action:
One of those 'leaders' who had their soundbites – such as "expensive bunny-hugging" and "build back better" – dismissed as merely "Blah! Blah! Blah!" was the UK's PM, Johnson.
Greta Thunberg was absolutely right to do this, as Johnson's 'pledge' to cut the UK's GHG emissions by 78% by 2035, from a 1990 baseline, are just empty words, given that his plans are projected to deliver less than a quarter of the cuts needed to meet this 'goal.' An earlier article on Left Unity's website pointed out how Johnson merely resorts to 'greenwash' when it comes to climate action:
Ecosocialism – not Extinction!
As an ecosocialist party, Left Unity believes 'Another world IS possible'; and we recognise that a massive social and political transformation – based on a just transition – is needed; requiring, as a first step, the increasing collaboration and co-operation of all those groups and individuals who are in no doubt about the existential crisis we are facing, and who agree on its main cause: capitalism.
Earlier this year, Left Unity was pleased to form an Ecosocialist Alliance with Green Left – the ecosocialist and anti-capitalist current within the Green Party of England and Wales. Since then, we have been joined by Anti-Capitalist Resistance – and this Ecosocialist Alliance remains open to all who share an ecosocialist outlook. Those who want to find out what we are doing, and will be doing, in the months to come, can email us at eco-socialist-action@protonmail.com
The first public action of our Ecosocialist Alliance was to issue a Joint Statement to the G7 countries meeting in Cornwall this June, listing the policies and actions which we consider are essential to solve the Climate Crisis.
Encouragingly, this Statement attracted a fair amount of support from individuals and organisations, both within the UK and internationally. Since then, we have updated our Statement, to present – and publish – our demands for radical systemic change ahead of the COP26 Climate Conference, which is taking place in Glasgow from 1 to 11 November. As with our first Statement, this one is already attracting significant support – including, most recently, from George Monbiot, the well-known environmental writer and activist.
We have also produced banners and a special Climate Crisis broadsheet. The broadsheet can be seen via this link.
Free copies (but a contribution towards distribution costs would be very welcome!!) can be ordered via this email address MidlandsACR@outlook.com
Next actions
We are focusing on actions on COP26. The COP26 Coalition will be holding a 'Global Day of Action for Climate Justice' on Saturday 6 November. This will involve actions and events across the world, including the UK.
The COP26 Coalition will also be organising a People's Summit during the Conference from 7-10 November – this will be a "global convergence space" for movements and campaigns to hold a series of events, as an alternative to the 'business-as-usual' of meaningless promises and inaction from the rich countries and capitalist corporations. This People's Summit will be via a mixture of in-person events in Glasgow and on-line digital programmes, including interactive workshops, panel discussions, strategy sessions, and constituency assemblies. The programme for this can be accessed here.
In particular, Ecosocialist Alliance supporters will be involved in the various COP26 events being organised in many towns and cities within the UK – and will have form an ecosocialist bloc, with our banners and broadsheets, at both the Glasgow and London events.
So…come and join us!! Especially welcome will be radical Labour Party members/supporters – especially those in RedGreen Labour – who have found, or are finding, Starmer's 'New Labour v.2' party not very appealing!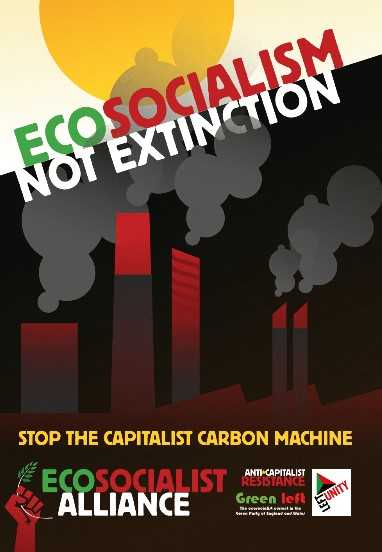 Allan Todd is a member of Left Unity, an ecosocialist/environmental and anti-fascist activist, and author of Revolutions 1789-1917