Allan Todd writes: Firstly, by way of some nostalgic light-relief, 53 years ago I was one of many who had to evacuate from a Norwich club – where the rock band, The Crazy World of Arthur Brown, had been performing their 1968 hit, 'Fire' – because Arthur Brown's flaming headgear had set fire to the low ceiling! 
In the lyrics of their song, Arthur Brown – the self-styled 'god of hellfire' – threatened to see us burn. Sadly, as the ever-worsening Climate Crisis is making abundantly clear, that 'Crazy World' seems to have finally, and quite literally, arrived.
Our 'Crazy World' on fire
At the end of June this year, we've seen air temperatures in the Pacific North West of Canada reach over 45C – that's 116F! – during an unprecedented record-breaking heatwave. In addition, ground temperatures there reached a massive 63C – that's 145F! As a result, infrastructure there has melted and roads have buckled.
https://www.columbian.com/news/2021/jun/27/vancouver-poised-to-break-all-time-heat-record-sunday/
https://gizmodo.com/ground-temperatures-reached-an-astounding-145-degrees-i-1847193318
Not so widely reported has been a medical report, 'Streets of Fire,' issued by the local health board: this stated that over 100 people have had to be treated for pavement burns. These people – mostly aged over 60 – required surgery and are likely to need a 2-week stay in hospital in order to recover. Such temperatures, and the resultant health issues, make the title of Canadian climate campaigner and author Naomi Klein's 2019 book, On Fire, particularly apt.
At the same time, reports emerged of what scientists are calling a "persistent heatwave" in Siberia, above the Arctic Circle – in which temperatures have reached a "mind-boggling" 48C – or 118F.
A report in the Independent referred to this as "global warming":
Which rather begs the question just at what temperature levels do we finally replace 'warming' with 'heating'/'over-heating'?
Elsewhere during June, record-breaking heatwaves have also been taking place – in particular, in the Middle East and in Pakistan.
These heatwaves have occurred around one month before the hottest season of the year normally arrives in such areas. The darkest red areas indicate temperatures of around 50C – or 122F – see report here.
The health authorities in both Pakistan – where temperatures soared to as high as 48C/118F – and in some Middle Eastern countries, had to advise people to stay indoors, as the high temperatures and humidity were well beyond what the human body can safely cope with.
ExxonMobil exposed
Yet, despite such mounting evidence – year on year – of approaching catastrophic Climate Breakdown – the dirty energy companies are still spending millions to rubbish such evidence, and to influence legislators to block, slow or water down any serious policies for tackling the Climate Crisis by moving rapidly away from fossil fuels to clean and renewable energy.
This was exposed last week, when Greenpeace Unearthed carried out a video 'sting' on one of ExxonMobil's main lobbyists, Keith McCoy.
During it, the Greenpeace activists got the lobbyist to reveal how ExxonMobil still secretly funds front organisations to rubbish the warnings and evidence of climate scientists – and, in particular, how they are now working behind the scenes, with sympathetic members of Congress, to water-down Biden's policies for tackling the Climate Crisis.
All this was reported, amongst others, by the New York Times and the Independent – and, for two days running, by Channel 4 News.
This excellent Greenpeace 'sting' also revealed how ExxonMobil is working to ensure that plastics-production continues to be a major source for profit – and how they continue to lobby for both the manufacture and use of 'Forever Chemicals' – despite the well-proven links between such chemicals and cancer.
This is despite the previous exposure of the serious health risks associated with the 'Forever Chemical' Teflon, manufactured for decades by the DuPont mega-chemical corporation, despite their knowing the serious health damages their chemical was causing. This scandal was the subject of the 2019 film, Dark Waters – starring Mark Ruffalo. For those who haven't seen this film, it is available to rent on YouTube.
Climate inaction
You could be forgiven – possibly! – for thinking that such recent revelations would, at long last, be pushing the UK government into taking rapid and drastic steps to reduce the clear and present dangers presented by the fossil fuel industry. Especially given that the UK will be hosting COP26 in Glasgow in November this year.
Yet – as even their own Climate Change Committee continues to point out – they are still failing to meet almost all the 'ambitious targets' that they keep 'setting'. Not only has Johnson's corrupt cabal still not stepped in to stop the proposed new coal mine in west Cumbria, they still haven't turned their 'moratorium' on fracking into a complete and outright ban.
In addition, so far, they have also failed to rule out the proposed new Cambo Oil Field, just west of Shetland.
Friends of the Earth currently have a petition about this – if you haven't already done so, please sign and share.
Urgent: Civil Resistance
Given all these recent developments and issues, it is clear that, if we are to avoid catastrophic Climate Breakdown, we need mass civil resistance to force the government to at last take urgent and drastic action to prevent the world from going well beyond even a 3C increase in average global temperatures.
Yet what we have is a government using the police to nip any such effective peaceful protest and action in the bud – even before protesters have started to protest! On Friday 25 June, 4 XR activists were arrested at XR's London Art Factory – 2 days before their planned 'Free The Press' protest, scheduled for Sunday 26/Monday 27 June. On that Friday, the Met Police raided the warehouse, and 'caught' XR activists in the act – shock-horror! – of painting wheelbarrows pink and creating banners for the planned protest. In addition to arresting the activists, the police also confiscated all their materials.
Such repression by the police is not something new – but it is becoming more common. In September 2020, when XR activists blockaded Murdoch's printworks, Priti Patel acted quickly to protect the press barons, by stepping in to urge the Met to make an 'early intervention'; this is now being challenged in courts.
As XRUK points out, since 1979, no party has won a UK election without the backing of Murdoch – and there is clearly a 'revolving door' between government and the billionaire press. Hence XR's June protest, to shine light on "the misinformation, manipulation and division pedalled by the billionaire press (and protected by the Government) for financial gain – at the cost of the planet."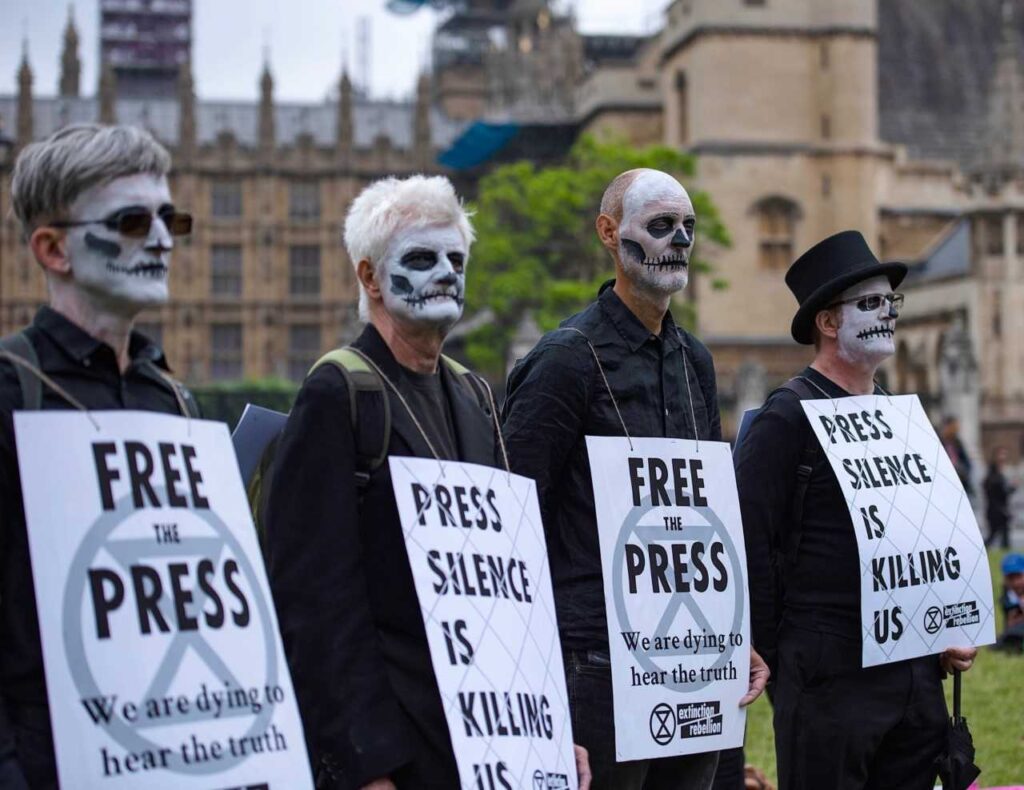 Yet, despite the police confiscating pink wheelbarrows and other materials, XR's protest still went ahead: including a lorry dumping a load of horse manure outside the offices of the Daily Mail. As a result of this, and other actions, 23 XR activists were arrested.
As Gully Bujak of Extinction Rebellion commented:
"For the British public, who've seen the criminal behaviour of this government and their 'cronies' throughout the pandemic, the conclusion must surely be clear: the arenas of power in this country are rotten, and where the billionaire-owned press is concerned – corruption is the business model.
"It's time they cut the crap and stopped acting as though they are providing a noble service to the public, while greenwashing the climate crisis and stoking the culture war to divide people.
"The need for a truly free press in Britain has never been more evident or urgent than it is today. Until the press is free, and those in power truly accountable, we cannot consider ourselves to live in a democracy, and without a functioning democracy, we cannot hope to survive the multiple and devastating crises heading our way."
Kill the Bill
However, that latest XR action was not just protesting about the role of the media in trying to prevent serious action on the Climate Crisis – it was also about "standing up for our right to protest." Only last year, Left Unity had an article on its website, warning about how – at least since the massive Tory election fraud in GE2015 – UK democracy is being gradually eroded, to the point where we are not far off becoming a 'elective one-party dictatorship'.
A particularly serious threat is posed by the proposed new Police Bill, currently going through its parliamentary stages. This is clearly intended to prevent peaceful effective protests by movements such as Extinction Rebellion, Black Lives Matter and Save Our NHS. Which is why so many organisations – Left Unity and Extinction Rebellion included – are actively opposing this Bill.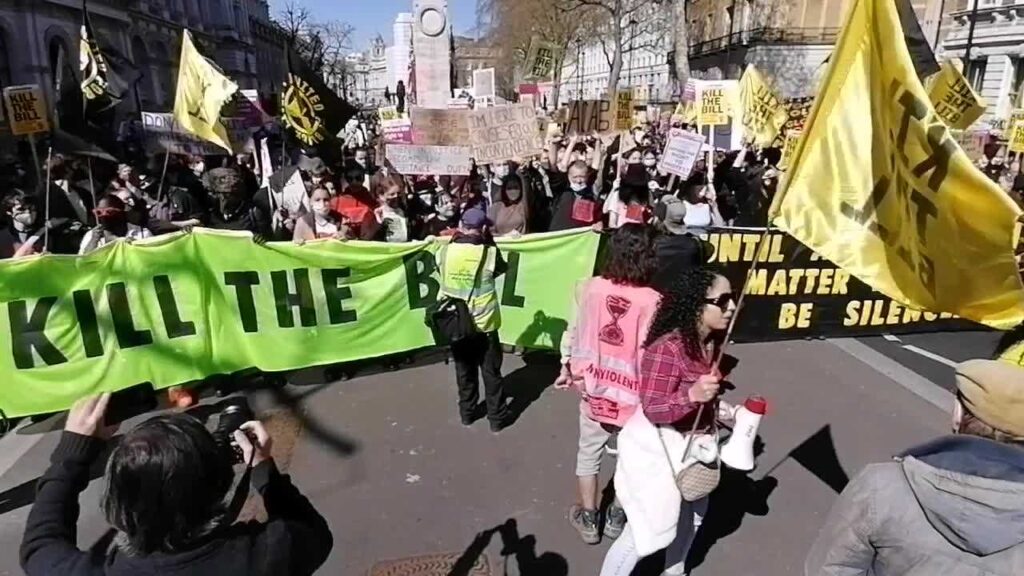 The Planet needs YOU!
Thus, more than ever, Planet Earth – and all the sentient beings currently living on it – need our active help. Extinction Rebellion – like the recently-formed Ecosocialist Alliance, and the COP26 Coalition – have drawn up programmes of actions between now and the COP26 meeting in Glasgow in November.
In addition to their 'Weekend Uprising' and 'Free the Press' actions on 26-27 June, Extinction Rebellion also have other actions planned:
Afrikan Emancipation Day/Reparations Rebellion on 1 August

a Kill The Bill demo, in London, on 21 August

an August Rebellion in London, starting on 23 August

a series of local and global actions, in preparation COP26 in Glasgow, on 1 -12 Nov
Details of all these, and more, can be found here.
What's particularly encouraging about these planned actions is that they indicate a significant and growing shift within XR, which began during the pandemic – and which is linked to earlier developments within XR Scotland.
This shift is in relation to XR's original 'non-political' slogan 'System Change, Not Climate Change.' There is to be a national XR gathering, planned for 12 July, to discuss the updating of their 3 core demands – 'Tell The Truth', 'Act Now', & 'Go Beyond Politics' – and the call for 'System Change.'
Increasingly, individuals and local groups within XRUK are coming to realise that the 'System' which is killing the planet is capitalism – though, at present, the preferred terminology is the 'commercial economy.'
These shifts are shown, for example, by the call for the need for 'Reparations' for the hurt imposed by colonialism/imperialism on Third World countries; the need to 'decolonise' XR itself; and the importance of reaching out to movements such as Black Lives Matter. It is also shown by taking on board the need for a 'Just Transition' within a Green New Deal, and the linked attempts to reach out to trade unions and the wider labour movement.
Money Rebellion
The need to move away, as quickly as possible, from a commercial economy to what XR is calling a 'social economy' – what we in Left Unity would call an ecosocialist economy! – is also reflected in Extinction Rebellion's on-going 'Money Rebellion, as mentioned in this recent Left Unity post.
Essentially, this Money Rebellion is designed to hit two key obstructers of serious action on the Climate Crisis: banks and the government.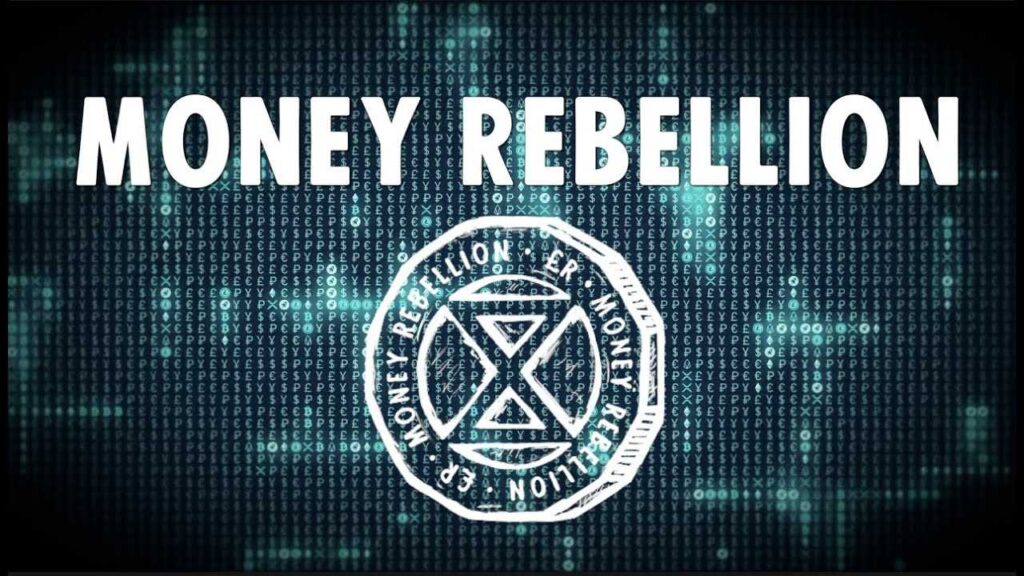 As regards the 'dirty banks' – especially Barclays and HSBC – XR is calling for 'Debt Disobedience'. This involves individuals taking out credit cards/small loans from these banks, that still continue to massively fund new and existing fossil fuel projects, and to donate those small sums of money to organisations working to save the natural world – and then to refuse to pay back the sums borrowed. This action has already begun.
Then, soon to start, will be what XR is calling 'Tax Disobedience': given that 3% of the UK government's budget is spent on propping up the fossil fuel industries – either directly, through subsidies; or indirectly, through new road projects – XR is calling on people to withhold 3% of what taxes they are liable for: in effect, a Tax Strike, similar to the Anti-Poll Tax campaign.
You can find out more about all this via these links:
https://actionnetwork.org/forms/xr-money-rebellion/
https://extinctionrebellion.uk/act-now/resources/money-rebellion/
If you are unable to join in any of XR's physical actions, or feel unable to join in any aspect of the Money Rebellion, then please consider donating, to help them replace items and materials confiscated by the police, and to launch further civil resistance actions.
Whatever you can do, please help make this a 'Summer of Love – and Resistance!'
————————————————————————————–
Allan Todd is a member of Left Unity, an ecosocialist/environmental and anti-fascist activist, and author of Revolutions 1789-1917