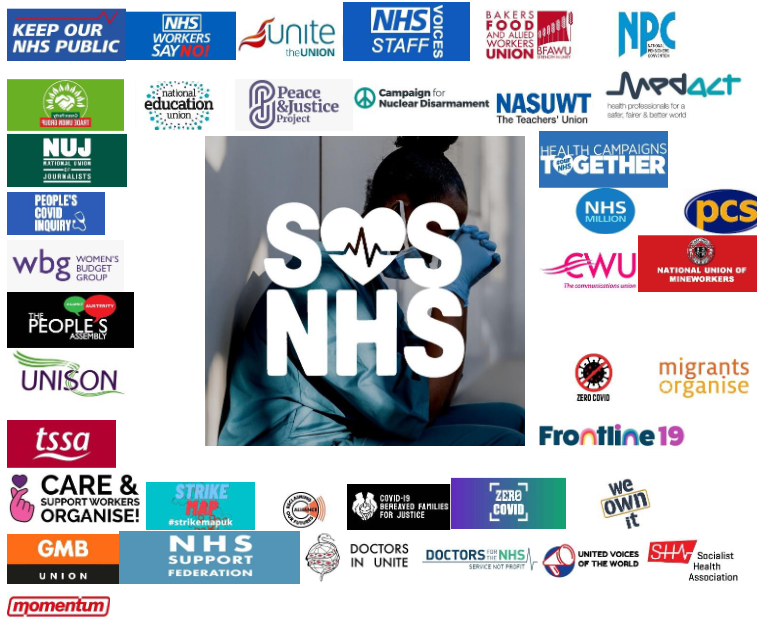 Nick Jones reports: I was invited to attend a 25-strong Unite Community branch meeting in Leeds this week, to talk about the SOS NHS campaign's planned Day of Action on 26th February. A substantial mobilisation is building, with news coming in of events and actions around the country.
And a lot's going on at the moment – not surprisingly. I got an invitation to the national Unite briefing with 105 people present on zoom – Left Unity Principal Speaker Felicity Dowling, who is a leading campaigner for the NHS in Liverpool, was also there. Then I went to Leeds Keep Our NHS planning meeting with 19 activists present – preparing our local action for the Day of Action.
This campaign is really popular and is growing fast.
People are organising and nearly all unions are on board – together with lots of health groups and others, like CND which is highlighting their Nurses not Nukes message, and the Green Party and more.
The 26th will be big – there are hundreds of protests being organised now – but the Labour Party has yet to sign. Let's do all we can to bring them on board and make this a Day to shake the government and get the change we need.
More information, posters and leaflets are available here
To submit an article for the 'Discussion & Debate' section of our website please email it to info@leftunity.org