LEFT UNITY, the new political party of socialists to the left of Labour. was formed on Saturday at the Royal National Hotel in Woburn Place, Bloomsbury. A fine big room was booked and just under five hundred of us filed in to sit row upon row on ballroom chairs arranged in two big blocks. Six chandeliers sparkled overhead – five of a moderate size, and an enormous one in the centre of the ceiling, which dazzled as the little glass diamonds twinkled with all the colours of the spectrum. It was the bright focal point in an otherwise dismal scene composed mostly of forty something white men, three or four people of colour, and maybe thirty or forty women. Of course, there were some lively people, particularly young women who were, despite their small number, extremely active during the debates, arguing from a variety of different standpoints, counting votes, and liaising between the top table and the various conference bodies.
The opening speeches about "safe spaces" were clearly the product of haunting by the turmoil regarding rape and the conduct of affairs in the Socialist Workers Party. Consequently, women will, from the get go, make up at least half of all Left Unity committees, councils, and delegations. This is a significant departure from all previous left initiatives and is the single measure most likely to give the workings of the new party and its public profile a radically different character.
However, feeling throughout the hall was saturated with a wary, and certainly weary skepticism from a mass of people who have seen it all before. Stalwarts and survivors from a raft of other attempts to unify the British left in our common struggle against Labour and the other pro-capitalist parties. After decades of defeat and irrelevance there was a realisation throughout the hall that we have nothing to lose, and a glimmer of hope that Left Unity might actually succeed in hauling us out of the hole that we all tumbled into long ago.
In Raymond Williams' apt phrase, the left has embarked, once again, upon a "journey of hope", where issues of morale have always taken precedence over actually winning anything.
The new party has no links with the Green Party, Plaid Cymru, Respect, any of the Scottish socialist groupings; no Labour MPs, MEPs, or councillors have jumped ship, and no significant figures from the trade unions have associated themselves with us. The Socialist Workers Party and even Red Pepper were notable by their absence. Of course, the Communist Party of Great Britain (CPGB) – a tiny revolutionary group – was noisily present along with a smattering of other revolutionaries from a smattering of little cliques and cabals.
The conference, wisely I thought, decided not to proscribe groups like the CPGB who clearly intend publicly to campaign against the majority decisions of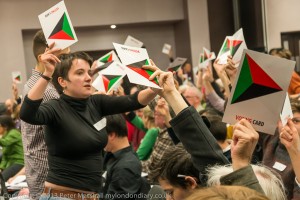 the new party. Most of those present appeared to be well aware that banning such groups would merely involve us in a round of acrimonious disputes, disciplinary hearings, and a debilitating round of expulsions. There was a realisation that it is far more important for the majority to push on and begin to concentrate upon building influence beyond the narrow confines of the left rather than getting dragged down by scraps with die-hard Leninists and uncompromising revolutionaries who are, as is well known, never wrong about anything.
Indeed the strategy implicit in Left Unity's activity seems to be establishing practical links with existing left groups and parties by engaging with the members of the Socialist Workers Party, the Socialist Party, Counterfire, or the Trade Union and Socialist Coalition, in each locality, and in each campaign, in the hope that the leaderships of far left and revolutionary groups will eventually opt to come into Left Unity and fight their corner inside the party while campaigning publicly for the broader majority positions agreed at Left Unity conferences and gatherings. So, Left Unity does not set out to be a federation of existing groups, nor is it organised around a charismatic figure like Arthur Scargill or George Galloway – it is a broad left party which hopes to provide a focal point for all those who want to create a mass anti-capitalist party capable of mounting a serious challenge to the powers that be.
The business of the conference was dominated by the procedural matters involved in setting up a new party. Consequently, hour after hour was spent deliberating upon technical matters and discussing and voting upon amendments to the draft constitution. The chairing, both morning and afternoon, was as excellent as the founding members were disciplined. The agenda was got through with minimal delays and overruns; a draft constitution was passed, and the name of the new party, Left Unity, was approved by secret ballot.
All to the good.
But, there was also an air of unreality first revealed by the discussion of the lower age limit for party membership. The initial proposal of fixing it at 13 was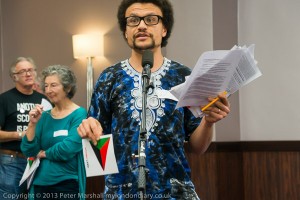 overturned in favour of no age limit at all to a chorus of fervent assertions of the right of children to participate in political struggle. There was no mention of parental permissions, or of the difficulty of the party's youth organisers dealing with DBS (Disclosure and Barring Service) issues or of liaison with child protection agencies. This naive atmosphere in which discussion was infected by a sort of rhetorical voluntarism, in which the wish is father and mother to the thought, was compounded by discussion of the need to eschew all involvement in coalition government – to which I could only think – "The chance'd be a fine thing!"
This kind of slippage, while not actually psychotic, has always informed much wrangling on the left, no matter how irrelevant or distant, such conundrums, contradictions, and challenges are likely to be. In this spirit various documents ("platforms" in left-party-speak), outlining the political principles and priorities of different groups within Left Unity were briefly discussed. So speakers were able to put forward the case for The Socialist Platform, The Class Struggle Platform, The Communist Platform, and a couple of others. When it came to the vote, The Left Platform, which emphasised the unity of anti-capitalist purpose while stopping short of making explicitly revolutionary demands and assertions, won overwhelming support. The arguments will no doubt go on, but Left Unity has set its sights on becoming a mass anti-capitalist party which while uniting diverse trends on the left, will become capable, in the fullness of time, of throwing down the gauntlet to Labour and the other pro-capitalist parties.
There will be a major policy conference in March next year at which Left Unity will begin to formalise its approach to a wide variety of different issues. It is there that the substantive political debates will begin and the party's initial priorities concerning campaigning, strategy, and tactics will be sorted out as the experience of those involved in the practical work of the branches is brought to bear on the problems in hand. If sufficient 'escape velocity' is achieved Left Unity will be able to overcome the gravitational pull of squabbling revolutionary sects and other failed leftwing initiatives, to build a new socialist party with a mass following. If it fails it will fall rapidly to earth, burning out during its descent.
I hope it will succeed, but in order for that to happen, those of us in Left Unity will have to stop attributing the failures of the past to the sectarianism of revolutionary politics and to the lack of democracy in many of the organisations traditionally associated with the left. To blame these features for our collective failure is to muddle up symptoms with causes. The isolation and inward-looking character of socialist circles in Britain is the product of defeat, not it's cause. Simply, proclaiming unity and ensuring that we have more democratic structures will not in themselves enable us to overcome our political and social separation from the mass of working people.
If we want to get anywhere at all we will have to inspect and challenge many of our existing assumptions and prejudices. We will have to develop a political programme with ideas that spring from the contemporary concerns and experience of the modern working class in all its contradictory and myriad diversity. Capital has, over the last thirty or forty years completely 're-engineered' the working class. Consequently, Left Unity, our new party, will have to catch up with the perpetually emergent nature of modern class relations or it will continue to languish amidst the verities and rhetoric of 1945 – the home truths and slogans of left Labourism, and of a vanished world. Therefore, we will have to consider how to move beyond defensive struggles regarding welfare and public services, we will have to think about how we can move onto the attack in private sector employment, in banks and financial services, in distribution, among the self-employed, and into a host of other areas where the trade unions and the left has traditionally never ventured.