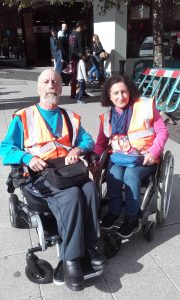 Sandra Daniels and Bob Williams-Findlay from West Midlands Left Unity have issued this statement on behalf of Disabled Members.
The Left Unity Disabled Members' Group is made up of disabled trade unionists, service users and activists, who have come together because we believe the discrimination and oppression disabled people face will only be removed by transforming society. This year's INTERNATIONAL WORKERS' MEMORIAL DAY 2020 will be particularly poignant due to the Covid-19 pandemic. Our Disabled Members' Group wishes to mark the day with anger, sadness and determination.
Anger, Sadness and Determination.
We wish to express our anger and outrage at the woeful disregard that both the government and employers have shown frontline workers and those they truly serve. Our outrage comes out of knowing that profit and greed has been put before safety, dignity and respect. Our sadness comes from knowing that too many lives have been needlessly lost already; that more are likely to follow because health and safety is not being taken seriously enough. We are however determined to ensure that all the workers who have been ruthlessly taken from us, will not have died in vain. We will continue to fight for better working conditions, that during the present crisis safety equipment and testing will become the norm. Our lives, our people and our futures must come first and foremost.
Background
The crisis within Social Care provision and the present dangers around the Covid-19 pandemic have combined to place Disabled people, support workers and personal assistants in vulnerable situations. For many Disabled people of all ages their very survival, let alone independence, is dependent upon the assistance available to them and over the last few weeks this has been put at risk by the government's incompetence and woeful inaction.
At this moment in time our concern and solidarity must be given to Disabled people, support workers and personal assistants irrespective of whether or not they are living or working in the community or within local authority or private facilities.
They Care, So Should We
Support workers and personal assistants often work in close proximity to Disabled people and therefore the guidelines around social distancing are generally pretty meaningless. Disabled people are at higher risk of contracting coronavirus because of "barriers accessing preventive information and hygiene, reliance on physical contact with the environment or support persons, as well as respiratory conditions caused by certain impairments", according to the International Disability Alliance (IDA). Oliver Lewis wrote:
"By 'institutional settings' I include psychiatric hospitals, social care homes, elderly person's homes, group homes and prisons. People with disabilities are particularly vulnerable to infection in these facilities given the risk of contamination of many people living together in a congregated way. …. The UN High Commissioner for Human Rights, Michelle Bachelet, says that 'governments should address the situation of detained people in their crisis planning to protect detainees, staff, visitors and of course wider society'."
The evidence in recent weeks has clearly shown that our government has failed to plan or take appropriate measures to protect people. It was only under pressure that guidelines for care homes were belatedly released; this is only the tip of a scandalous iceberg. Two major areas of concern persist for frontline workers – the lack of testing for the Coronavirus and the issuing of personal protection equipment (PPE). It is understandable that people are outraged that there is a lack of testing and issuing of PPE for NHS staff, but support workers and personal assistants are also frontline staff. There should be an outcry that support workers and personal assistants are being expected to work with hands tied behind their backs.