As part of its carbon emission reduction agenda, the Climate Action Network West Midlands (CANWM) recently held a successful local and international meeting on the subject of introducing Fare-Free Public Transport (FFPT)in Birmingham and the West Midlands.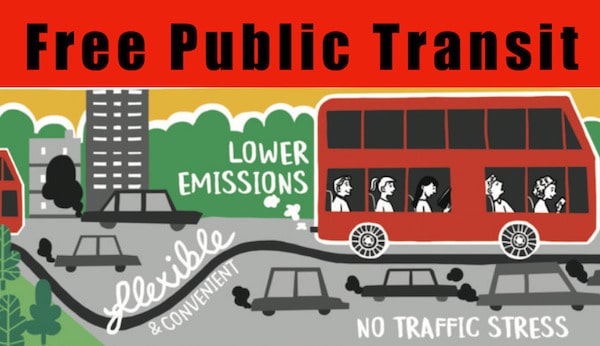 The meeting was led by an expert on the international situation, Wojciech Keblowski, from the Free University of Brussels. He related his research into this growing phenomenon, with 100 cities around the world now implementing FFPT schemes.  Although the experience is specific to every area, the general view is that increased use of public transport and a reduction in car use usually follows.
There are other social benefits. While the nearest example to the UK is Dunkirk, the most long-lasting and largest example is in Tallinn, Estonia. The loss of revenue from ticket sales was eventually more than overcome by savings elsewhere. That was, even more the case in Aubagne, France. There was representation at the meeting by people from Glasgow, who are pushing for FFPT in their area as well.
Soon afterward, there was a large national meeting hosted by Manchester activists, outlining how they had pioneered the move to re-regulate the bus service. Glasgow, Birmingham, and the West Midlands were also represented. at this meeting. The links are growing.
For CANWM, the next stage is for a feasibility study to be undertaken regarding FFPT in Birmingham and the West Midlands. Birmingham City Council has refused to take this on, and Transport for West Midlands (T4WM) have proven even less receptive. This negative outlook needs to be challenged, but in the meantime other partners are being sought.
It is no good waiting until post-Covid to make the preparations, the planning should start now. The biggest source of Carbon Dioxide emissions in the UK and the West Midlands is now from transport. In Birmingham it takes second place to buildings. The climate will not wait for us to get our act together. This campaign needs as much support as it can get.
The 25-minute video of the event is here https://youtu.be/g-oF70byw2o
CANWM can be contacted at canwestm@gmail.com
By Tim Weller (Birmingham Left Unity)
To submit an article for the 'Discussion & Debate' section of our website please email it to info@leftunity.org