Ruth Steigman from the Left Unity Women's Caucus reports on an event in East London.
Last Thursday evening about two hundred women (and a few men) packed into the Rag Factory, a small hall off Brick Lane in London's East End, to debate whether 'We should all be feminists'. The event was so popular that participants stood at the back, several rows deep, for the whole debate.
Seats were arranged in circular rows, the speakers sitting among the participants in the inner circle, not up on a platform, and we were told it was going to be an interactive debate. Speakers and participants alike were given 3 minutes each to speak, with a squeaky toy rather than a red light as warning that time was nearly up.
The result was an intensely engaging debate, with a real buzz. Most of the women were young, all who spoke identified strongly as feminists, and all were determined that the culture of misogyny and oppression must and will change. There was real anger – 'outrage' was the word used – at trends like rising rape statistics, and when a man asked what men could do to support feminism, the answer came instantly – 'Listen!' Other contributions emphasised that men needed to not just listen, but also actively speak out against sexism. A woman from Left Unity argued for women to join the Reclaim the Night march, and for men to show their support by coming to the men's vigil and mixed rally after the march – this met with wide applause.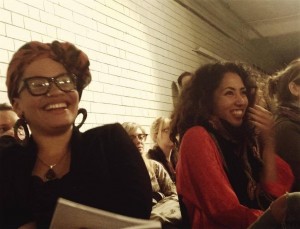 Halfway through the debate we were told the format was going to change to 'speed-debating' – 3 minutes for us all to talk to a neighbour to tell them what we would change first in society to establish gender equality, then 3 minutes to talk to another neighbour about celebrities – were their interventions helping feminism or hindering? Then the debate moved on again as participants and speakers reported back from these conversations.
The invitation to the debate had asked: if the last 20 years have brought more women MPs and business-leaders, why are three times as many young women now locked into low paid, low-skilled jobs? The answer was on the whole intensely political – capitalism, austerity: capitalism relies on unpaid labour done by women, the pay gap is widening; women have been disproportionately affected by austerity, through loss of public sector jobs and welfare benefit cuts – one example given of this was the 281 women with panic rooms due to risk of violence from former partners who are affected by the bedroom tax.
These political arguments led to calls for feminism to be seen as a way into looking at interlinked oppressions – we should challenge racism and class oppression alongside our challenges for feminism: the fight against austerity needs to involve working-class women, and we need to take an international view and talk about conditions in sweatshops abroad.
On wider points there was concern for young people increasingly affected by the objectification of women, and calls for finding a way to counter on-line misogyny, without giving the perpetrators attention. One woman summarised feminism as about fighting for women's empowerment and equal rights for both sexes: these young, strong, articulate women showed that the fight is well on its way.